Working in groups
During your studies at OP, you might have to work as part of, and lead, student teams. Effective communication takes practice, and a strong interest in understanding, and being understood by, others. It's about listening, and making time to ensure that your group is OK and on the right track with your project. This section will help with team motivation and identifying personal strengths.
Why should I work in a group when there is sure to be someone does not do their share of the work and relies on other team members to get the work done?
This rhetorical question is often asked by someone who has had a bad experience with group work. It is therefore critically important that their next experience be a good one!
Research has shown that we learn and retain more information when we work in effective groups; when we are actively involved in the learning process. We develop our collaboration skills as well, which are essential when we step out into the workplace and we want to succeed.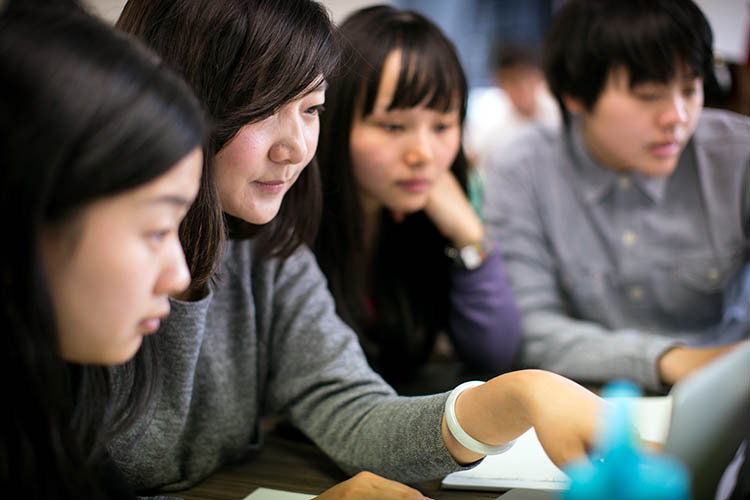 Get to know each other
Create a cohesive unit on first meeting by having a structured approach:
Icebreaker: Introduce yourselves, sharing something interesting about yourself so that you will be remembered. This begins the cohesion of the group
Describe the strengths you bring to the group, any interests and other skills that may contribute to the effectiveness of the group
Outline your own personal goals and expectations
Identify the goals and expectations of the group to keep group members motivated and prevent conflict
Record each person's telephone number and email address
Make the best use of the talents of the members of the group:
List what individuals bring to the table in terms of strengths and contributions
Match the strengths and interests of individual members to the tasks/role you consider important for you
Make sure that everyone has some task which carries responsibility so everyone feels included and motivated
Choose from the following roles to maximise the efficiency of your group:
Organises and facilitates meetings. The facilitator sets the agenda and makes sure everyone's voice is heard.
Summarises what was discussed in each meeting. The summariser also outlines the next steps for the project after each meeting, including who is responsible for what.
Takes meeting notes. The note taker is responsible for posting the notes somewhere group members can access.
Follows up with group members to ensure that things move forward. The progress chaser is responsible for making sure everyone stays on track.
The time keeper is responsible for making sure everything happens according to the schedule. This includes reminding everyone how much time is left in meetings, as well as the project as a whole, and what's left to be done.
Presents material that has been created by the group.
Helps resolve conflicts if they arise, making decisions when necessary.
Establishing ground rules
This involves agreeing on how the group will work together.
For example, how will you make sure communication stays respectful? How will you address conflict?
How will you make sure that everybody participates equally?
What are the rules for dealing with a member who hasn't been communicating? How frequently should group members communicate/check in?
How will you ensure that everybody participates meaningfully? How will you make sure everyone's contribution is valued?
How are decisions made in the group? Do you operate democratically, by the use of roles, or something else?
How will you deal with disagreement in the group?
How will you deal with problematic interactions, on- and offline?
What technologies will support your group meetings? IM programs, Connect discussion boards, Skype, etc?
What's the group's primary goal? Getting an 'A'? A good learning experience? The chance to try something new?
Set a meeting schedule
Set a meeting schedule and timetable that works for everyone, and members can diary when you are to meet, and when specific tasks are due to be completed.
Within the schedule consider:
Assignment requirements and due dates
What needs to be done face-to-face, as opposed to what can be done on-line
What constitutes satisfactory participation: how much time members have to spend a week, and what happens if deadlines are missed
Post the schedule on-line for everyone to view
Define how members of the group communicate outside meeting times
Depending on the group's preference, you can choose from a range of online tools for organisation and communication: Link, Messenger, Google Drive, Wikis, Mind Maps, Skype, Prezi.
You might also have a look at Doodle which is a free online scheduling tool which helps reconcile different timetables.
By the end of the meeting
Every member should leave the first and subsequent meetings feeling:
Affirmed, having been listened to individually, with their ideas acknowledged
Clear about the goals and expectations of the group
Aware of meeting dates and task deadlines
Prepared to keep on task and give progress reports as required
Supported and willing to support fellow group members
Motivated to give their very best for the success of the group
Conflict can creep into the group dynamic as a result of people with differences attempting to work together. How do we resolve conflict to achieve collaboration?
Before problems arise decide how decisions will be made, either by:
Consensus
Majority or
Compromise
Record all decisions, actions and incidents in meeting minutes.
Communicate effectively by being:
Adept in your communication skills: follow the listening, observing, speaking ratio of the body; 2 ears, 2 eyes and 1 mouth!
Aware of dominant characters and talk about the need for sharing not only tasks but ideas
Open and flexible in looking for solutions
Honest with each other
Inclusive and mutually understanding
Brave enough to speak your mind in a way which is sensitive to the needs of others
Consult with your teacher or Student Success if you are unable to resolve your team's problem.