Communicating online
When you study online nearly all your communication will be in an online format, either through email, forum, Teams post/chat, OneDrive or online lessons. Learning how to effectively communicate and collaborate online will be a huge help in making your study engaging, rewarding and ultimately successful.
It's not always easy to communicate online, and it can take a bit to get used to, but with some practice it can be an effective part of your online study and an essential digital skill for your future career.
Types of communication online
There are two types of communication that can be used in an online class:
Asynchronous communication is when you, your classmates, and your teacher participate in online discussions at different times, rather than in real time. For example, posting a message in Teams.

Synchronous communication happens in real time, like an online lesson or chat.
Both of these types of communication will usually happen when you study online, but it will depend on the programme and teacher as to the mix of communication types that will be used.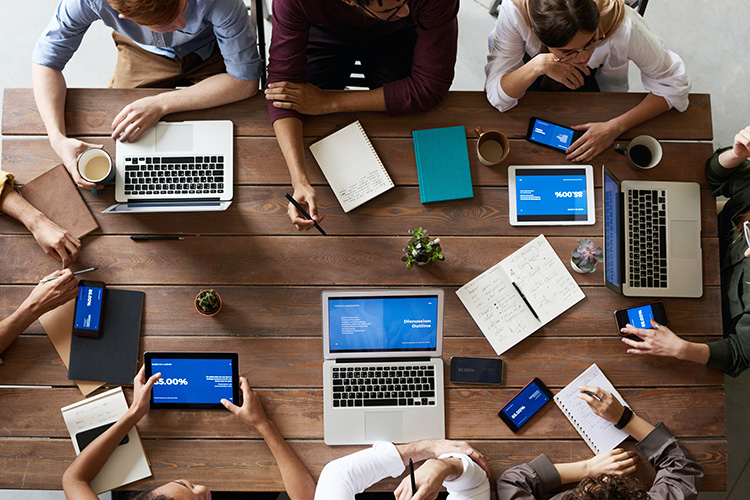 Types of online communication
Here are some of the types of online communication you will come across at OP:
Moodle allows teachers to set up online forums for groups of students. Participants can receive posts by email, and/or log onto Moodle to view them.
Find out more about discussion forums in Moodle
Teams meetings - Meetings or classes can be held online for all learners, but can also be recorded and made available to be watched at a later date.
Channel posting – if you are part of Teams group, you will be able to post in the channels to ask questions or interact with your peers.
Teams chat – Chat is between only a copy of people and is private from the rest of Teams. There is also the possibility to chat in a meeting to talk communicate with others in the online meeting.
Your student email is provided through Microsoft Outlook. We highly recommend you get in the habit of checking your OP account like you do your own personal email accounts. Services like the Robertson Library and OPSA use your OP address to communicate with you, as well as your teacher.
Some programmes make informal Facebook groups or Messenger groups to aide with group communication.
The keys to online communication
Online etiquette or 'Netiquette' is a guideline to how to behave in an online environment. Following these guidelines will help you communicate effectively and avoid miscommunication.
Online communication guidelines
Keep your words to a minimum
Avoid slang and abbreviations
Check that auto-correct hasn't changed any words
Check you have selected the correct person to send to
Avoid emojis, as these can be confusing and sometimes don't translate across software
Avoid using capitals as this is seen as 'shouting' online.
Who is the communication for? Is it formal or informal?
How will the context affect the way you communicate?
Introduce yourself and sign off
Remember that culture influences communication style and practices
Stay open, ask questions, and avoid assumptions
Teachers will usually set the tone for the group and provide guidance/guidelines.
We all come with personalities. Remember, there's a person behind the words. Ask for clarification before making judgments.
There are no visual or tonal cues in online communication, this means a lot of meaning is lost.
Check your tone/language before you publish: will everyone understand what you are saying?
Respond to people using their names
Remember that culture, and even gender, can play a part in how people communicate.
Avoid jokes and sarcasm, especially online. It's easy for your intention to get lost without your body language.
Stay open, ask questions, and avoid assumptions.
What you say online is difficult or impossible to take back later
Consider your responsibility to the group and the learning environment
If you are working collaboratively, agree on ground rules for text communication.
Seek clarification before reacting
Accept and forgive mistakes
Consider your responsibility to the group and to the learning environment
Use direct quotes before responding to a specific point made by someone else
Ask the author of an email/message before forwarding it or reposting publicly.
If you are not sure what to say, how to say it or where to say it, then ask your teacher for guidance.
Sometimes, online behaviour can appear so disrespectful and even hostile that it requires attention and follow up. In this case, let your teacher know right away so that the right resources can be called upon to help.
Check out our resource on cyber bullying.
What's the best way to communicate?
To figure out the best way to communicate, think about these four points below and change your language, tone and manner to fit the situation:
Audience — this is who are you communicating with. What is your relationship with them? e.g. In academic or professional settings, you should be more formal than you would be with friends.

Purpose — Why are you communicating, what do you want to achieve from this communication? E.g. Do you want to seek information or are you sending a birthday invite?

Context — What is the setting for this communication? e.g. What is the background or situation that led you to communicate?

Media/format — What is the appropriate communication method to use? The audience, purpose or context may influence what is the most appropriate online tool to use. Eg. Messenger may not be the best way to message your boss.
Test your netiquette knowledge
Answer these scenario questions to test your netiquette knowledge.
Take the quiz