Reports
Report writing is an important skill in almost every field. A report is written to inform a particular audience about the results of an investigation or work. It outlines what was done and what was discovered. This information is then analysed and used to make decisions or solve problems. A report is presented in sections with headings so that information can be easily located and understood.

This section provides information on the main differences between essays and reports. It also presents examples of the most common types of reports you may be required to write, and identifies the structure and sections of most report types.
You can use the steps that are presented in the section on Essay Writing. However, when it comes to writing your report, you will need to use a different structure, depending on the type of report you have to write. A report can be distinguished from an essay by the creation of headings into which information is organised.
It often has a pre-defined structure, with headings that indicate the sections within a report, such as an introduction, discussion, and conclusion. Hence a report provides you with more structure than an essay, while still allowing you some freedom in deciding on the organisation of sub-sections within the main sections.
Another difference is that the sections of a report can stand alone and be read as independent units of text. The final difference concerns the conclusion, or findings of a report. This must be objective and unbiased, and reasoned logically from the discussion and evidence contained within the body of the report. Whilst essay writing holds to this ideal, essays do provide more scope for subjectivity and evidenced opinion.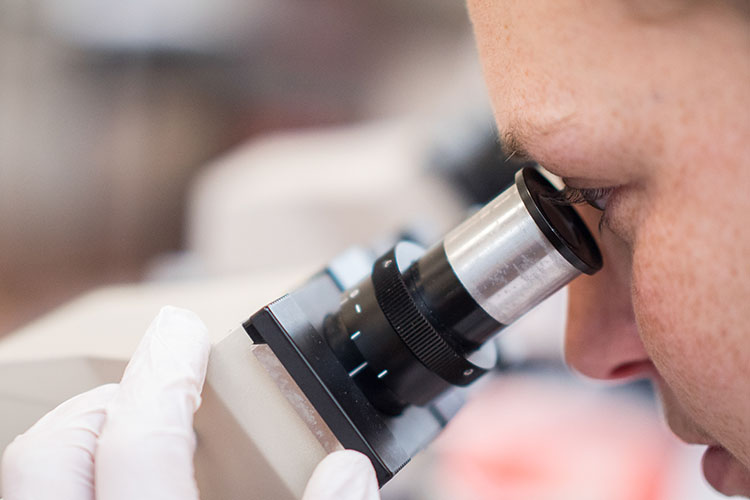 A report is a written presentation of factual information based on an investigation or research. Reports form the basis for solving problems or making decisions, often in the subjects of business and the sciences. The length of reports varies; there are short memorandum (memo) reports and long reports. Most often you will be asked to write a long report.
What makes an effective report?
Clear, concise and accurate
Easy for the audience to understand
Appropriate for the audience
Well organised with clear section headings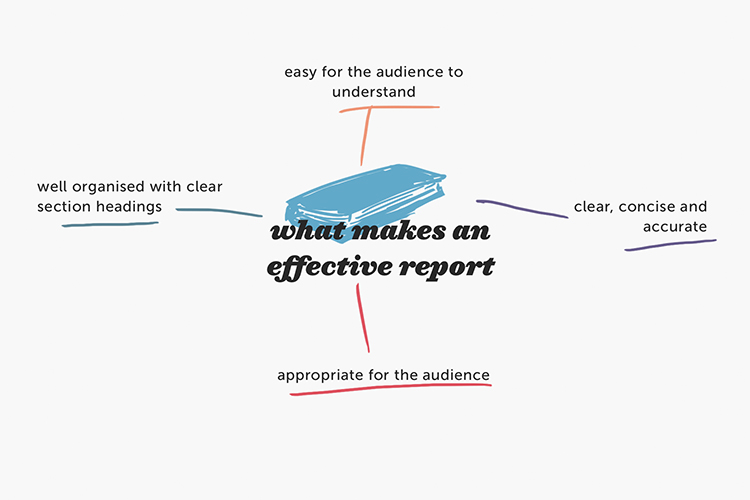 Avoiding the use of the first person
In formal reports, you are not permitted to use the word "I", except in a Personal Comment section. Here are some suggested workarounds:
| | |
| --- | --- |
| Instead of | Try |
| I think … | In the view of the writer … |
| In this report I cover … | This report covers … |
| I found that … | The results show that … |
| You should … | It is recommended that users should … |
| I believe that … | It is the opinion of the writer that … |
Reports follow a standardised format. This allows the reader to find the information easily and focus on specific areas. The examples below outline the general structure of the reports you may be asked to write, summarises the main headings used and outlines the purpose of each section.
Keep in mind that the format, sub-headings and terminology required in your report will vary, depending on the requirements of the task and the report's content. Check with your teacher and consult the marking guide for specific instructions regarding the structure and content of your report.
Memorandum (memo) or short reports
These are usually one page in length and have three basic parts:
Introduction - This introduces the purpose or problem to be investigated

Body - Information (findings), often set out under subheadings and/or numbers

Conclusions - Suggestions for a particular action or lack of action to be taken
Schematic or tabulated reports
These are an extended version of the memo report and begin with the same headings. They are usually about 2-3 pages, with the headings To, From, Date and Subject. Though the sections contained therein roughly correspond to those outlined in the table above, the number of sections and the amount of information within each section are necessarily condensed.
In-depth scientific research reports
These reports are usually 2000 words or longer and follow a similar structure and section headings outlined in the table above. They are read by a variety of people from professional, technical and scientific experts in the field, to managers and non-experts.
Scientific and technical reports are concerned with:
How the research was done

What the results are

The discussion of those results

Recommendations and conclusions
Report Template
Sections:
Purpose: (Not part of the word count)
Document title
Document Subtitle
Your name
Date
Course
Purpose: (Not part of the word count)
Use this section to type your executive summary. Keep it brief and to the point. An executive summary should be such that a reader can get the "gist" of what your report is about without having to read it in detail. It identifies the purpose and most important features of the work, and states the main conclusion. If appropriate, it might also include the main recommendations. Use language like "This report investigates …", "This report shows how …", etc.
Purpose: (Not part of the word count)
The Acknowledgments section is a very brief note to thank anyone who has been especially important in assisting you in the process of the project and report. It is ok to write in the first person in this section. For example, I would like to thank...
Purpose: (Not part of the word count)
Shows the sections of the report.
Gives the headings, subheadings and page numbers.
Purpose: The introduction is a brief paragraph or two about the purpose of your report, and the key information you need to express about why you are doing it and how you plan to go about it. It prepares readers for the topic of the report and helps orient them to the scope of the report. If your audience is unlikely to know a lot about the topic, then you may need to explain concepts and acronyms here.
Purpose: The Background explains your topic and what you knew about it before you embarked on your investigation. It elaborates on the Introduction. It outlines in some detail what you see as the "problem" or main issue, and why you are carrying out this work.  In some cases you may have already covered this in your Introduction, so you may be able to omit this section. 
Purpose: This section may or may not be required. If your report covers a mainly research-type project, then you will probably require a literature review. This looks at published sources that already exist about your topic of interest and what they have to say about the topic. Always use correct citation style. Use the Word Citations & Bibliography tools (on the References Ribbon) to save you a lot of time and ensure your bibliography and citations are in the correct format. 
Purpose: This section will probably be quite long and will cover your explanation of your plan or design for your investigation. It may include many subheadings, and will probably include concept diagrams. Remember to use bullets and numbering for lists of ideas as appropriate.
Purpose: This section will explain in detail how you went about implementing your planned work, if it is a technical report, or how you went about investigating your area of interest, if it is a research report. This section also outlines the outcomes, i.e. the results of your work, but does not analyse the outcomes. It may include many subheadings, and will probably include diagrams, tables and images, depending on your topic. 
Purpose: This section is where you analyse the results of your work. It will involve a detailed discussion about your findings, whether they were what you expected, and any major issues that arose out of your work. You may require subheadings in this section.
Purpose: The Conclusion should be a relatively short overview of the main ideas that have come out of your work. Never introduce new information here. The aim is to summarise everything that has gone before. It is ok to repeat key information but try to re-word it so that it is not identical to the text used in the other sections.
Purpose: If your project allows for this, use this section to briefly outline your experience in doing the work and what it might lead to in the future. It's ok to use the first person in this section.
Purpose: The Reference List contains all of the sources that you have actually cited in your report. Use Word's Citations and Bibliography tool (on the References ribbon) to construct your Reference List.
Purpose: The Bibliography contains all of the sources that you have not actually cited in your report, but have used as general sources of information for your own learning. If there are no additional sources (you have cited all of them), then a Bibliography will not be necessary. Use Word's Citations and Bibliography tool (on the References ribbon) to construct your Bibliography.
Purpose: The appendices contain all of the information that supports your report, but is not actually included in the body of the report. Examples of this would include detailed diagrams, screen shots of software, detailed results of questionnaires, etc. Use subheadings as required.
You can use and adapt this template for a Technical or Research report. Some teachers require specific kinds of formatting. Typical formatting specified will include margin width and line spacing. Adjust these as necessary. The downloadable template below includes the above headings, but you may want to re-word them or delete those that do not apply to your report.
The Microsoft Word template already includes section breaks and page breaks, and already uses heading styles and outline numbering for headings and subheadings. You can view these by turning on paragraph marks.

Use bulleted lists and numbering to separate main points. Never type your own numbering – use the numbering tool on the home ribbon/paragraph group.
Remember to update your table of contents once you have deleted the first page of the template, and after you have completed typing the report.
Business reports
Visit the Business reports page for in-depth information about this type of report.
Businesses may request a report when there is a problem to be solved, or when information is required. Where information is requested, this should be presented in a clear, orderly, succinct manner. Your language needs to be persuasive yet objective, and evidence must be provided to support all claims. As reports can be formal or informal, take care to read instructions carefully to ensure that you understand the expectations for a particular assignment.
Emerson (1995, p. 28) identifies two main formats for business reports: deductive (where the content is not controversial, or the reader is very busy) and inductive (where material is controversial and the reader needs to read the Discussion before being presented with the Conclusions and Recommendations). Regardless of which format is used, all reports should be presented professionally; each section should be on a separate page and numbered in a consistent style.
Case study reports
Visit the Case study reports page for more information about this report type.
A case study is a description of a real life problem or situation which requires you to analyse the main issues involved. These issues need to be discussed and related to the academic literature and/or research findings on the topic and conclusions then drawn about why the situation occurred and how best to respond to it.
Although you can use Microsoft Word to do a great many formatting tasks, there are basic requirements for good presentation of a report.
These include:
Margins
Page numbers
Headers and footers
Using heading styles
Outline numbering
Bullets and numbering
Table of contents
Tables
Page breaks
Sections
Title page
To learn more on how to format with Microsoft Word go to the IT Support section for information and choose the link for your Microsoft Office version in the Show me filter box.