Reflective practice
"Follow effective action with quiet reflection. From the quiet reflection will come even more effective action."
Peter F. Drucker

Taking time to pause quietly, to look back over what you and others have done, is an important skill which will enrich your life. In the same way, making time to reflect on what you have learnt through journal writing will improve the quality of your learning.
"Thinking back" is a vital component of reflection. Reflection is one of those things that is both really simple and quite complex. It is simple because, like learning, we all do it—it is really nothing more than thinking back over something that you or someone else has done. You may be doing that because it was really pleasant or because it was particularly unpleasant. So you may be reflecting on something because of the emotions that are attached to it.
Reflection can also serve as a guide for future action. You may think back over something to try and make sure something similar happens next time—for example, you may reflect back to when you had an enjoyable meal in a restaurant. This reflection might encourage you to go back to that restaurant. Alternatively, you may reflect to make sure the same thing does not happen again—if the food was cold and the waiter was rude, thinking back to that time might make you eat at home that evening!
Reflection at work and during study
People in many different careers are expected to be reflective about their work. Doctors, social workers, nurses, and teachers are all supposed to be reflective practitioners. This means that they are supposed to learn from what went well and from their mistakes to ensure that they become better and better at what they do.
The need for such reflection is not confined only to these careers. Would you like have your car fixed by a mechanic you know never reflected back about whether they had tightened all the wheel nuts?
Reflection is thus also a critical part of the learning process for you as a student, to reflect on what you are learning and to develop the skills that will enable you to be a reflexive practitioner in your future workplace.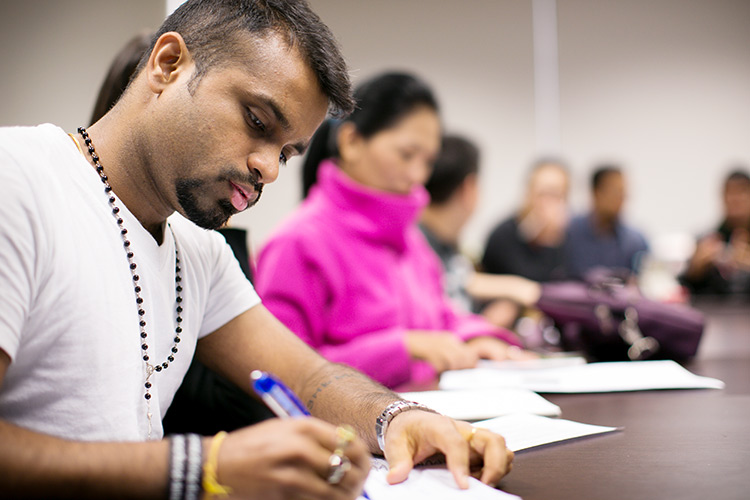 One of the most effective ways of learning is to write down your reflections using a Learning Journal or Reflective Journal.
A Journal helps you get and keep in touch with your own reactions and responses to all the phenomena and experiences you encounter during the course of your studies and daily life. These phenomena might include course materials, work experience, relationships with tutors and classmates, and performances in assessed work. It will help you "think about the way you think", encourage the integration of theory and practice, and serve as a record of your experiences and learning in the program.
You are writing for yourself, the learning journal is a process of reflection to enable you to become more aware of your learning and your professional practice.
What does it look like?
YOU choose how it looks, and the form you want it to take. You might be most comfortable using an electronic form, for example, a personal blog or a wiki. Within this electronic space, you might include written reflections, pictures and photographs, audio files, cartoons and animations, links to other sites, twitter feeds etc.
Alternatively, you might prefer to use a paper journal or book to record your reflections. These could be written, or expressed as drawings, pasted pictures, mind maps, quotes and diagrams.
The key is to do what works best for you, overall and in the moment that you are recording your reflections.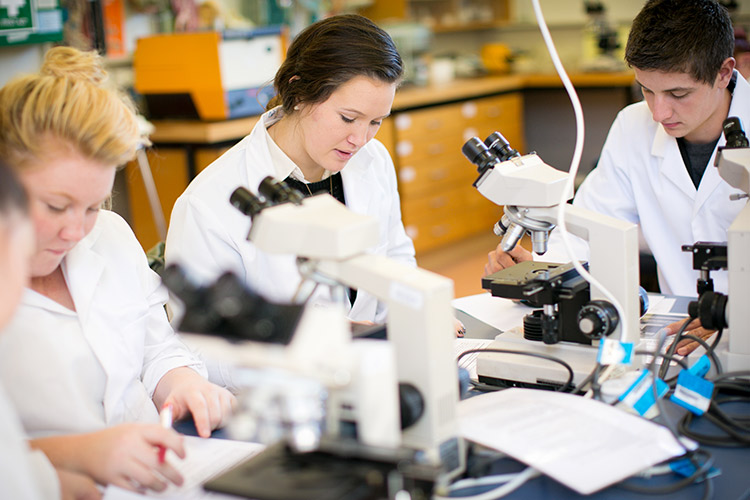 Do I have to submit the journal?
A Journal is a private learning tool, one that enhances your own learning. You may or not be required to submit it, depending on its function within your course. Either way, the benefits that you receive from using it, during the recording process and while reviewing your reflections, will contribute to both your coursework and your daily life. Because it is private, you can feel free to record and reflect upon your uncertainties, 'failures' and 'mistakes' without fear of public judgment. In this way, it is a safe place to learn about and explore your own responses to experience. It is also a good place to record your reflections on the words, actions and behaviour shared by other people relevant to your studies.
What can I put in the journal?
There is no right or wrong way to keep the Journal. Just actively maintain it. The privacy allows you to experiment, and to learn how it best benefits YOU.
It's a place where you should feel free to make as many mistakes or admit as many insecurities as you want.
It is also for expressing your:
Excitement, successes and fears, your inner feelings
Your thoughts and ideas throughout your experiences
What you have learned
Special quotes or images that have become really important to you
You may choose to record:
Moments of clarity when you finally understand something important
Concepts that puzzle you
Ideas you are playing with
Notes for a major project
The possibilities are limitless. It is an easily available and very flexible tool or resource that exists solely for YOUR benefit, YOUR growth and YOUR learning.
As discussed above, there are various formats and media forms able to be used when keeping a Learning or Reflective Journal. Below is one framework, developed by Dr Bronwyn Hegarty (2011), which might be useful to you. It consists of a template that you can follow to structure your reflective writing in three steps. This encourages you to move beyond basic description about your experiences to analyse your actions, learning, and emotional reactions and thus examine your practice more critically and from different perspectives.
Step 1: Take notice and describe the experience - description of evidence
What did you do, know, feel, think, need?
Record a basic description or narrative of the events and actions surrounding the evidence you have selected.
What decisions did you make?
What decisions did you make when exploring and selecting the evidence?
Prompts:
Outline your actions for exploring and choosing this evidence.
Comment on what you were doing, feeling, thinking, and needing at the time.
Mention initial reactions and what you did to engage with the evidence.
Indicate what helped you, or not.
Tips: You need to write retrospectively about what happened in the past tense, using a personal voice in first person. Use a variety of methods to record your experience e.g. descriptive text, audio, pictures, bullet points, diagrams etc.
Step 2: Analyse the experience - implications of your decisions, actions, reactions
Why the decisions and actions?
Analyse your decisions and actions when exploring and selecting the evidence. Think about why they were useful and how they helped your understanding and knowledge.
Why the reactions?
Make notes on the reasons for your intellectual, emotional and physical responses (reactions). This will help you better understand the way you learn and practice.
Prompts:
Think about why you chose this evidence and how it might help your practice.
Comment on what worked and what did not, and why.
Outline what you could have done better or differently.
What assumptions did you make and why did they influence you?
Tips: Be honest with yourself and use the information to get a clearer picture of the situation – your assumptions, prejudices and beliefs all play a part in this. Use references from research and theory to support your analysis of the evidence; this will help you make connections between theory and practice.
Use as many different ways as you can to illustrate your points e.g. audio, video, diagrams, images etc.
Step 3: Take Action - Reflect on what you learned and how you will use this
What did you learn and why?
Record what you have learned from exploring and compiling the evidence. Include a critique about your immediate practice and your profession from a range of perspectives.
How will you use this learning?
Plan how you might apply what you have learned to your practice by setting some goals. This process will help reinforce what you have learned.
Prompts:
Indicate what you learned and how this might change your future practice and why?
Mention socio-economic, political, historical and cultural considerations in the wider context of your profession e.g. power relationships, social justice, traditions etc.
When setting goals for applying what you have learned to your practice, include what you need to explore further or to get help with.
Tips: If reflecting within the wider context of your profession, you need to consider multiple perspectives - socioeconomic, political, historical and cultural. This is critical reflection. Include references from the research literature and other information sources.
Set yourself realistic goals, and indicate how and when you intend to achieve them.
Summary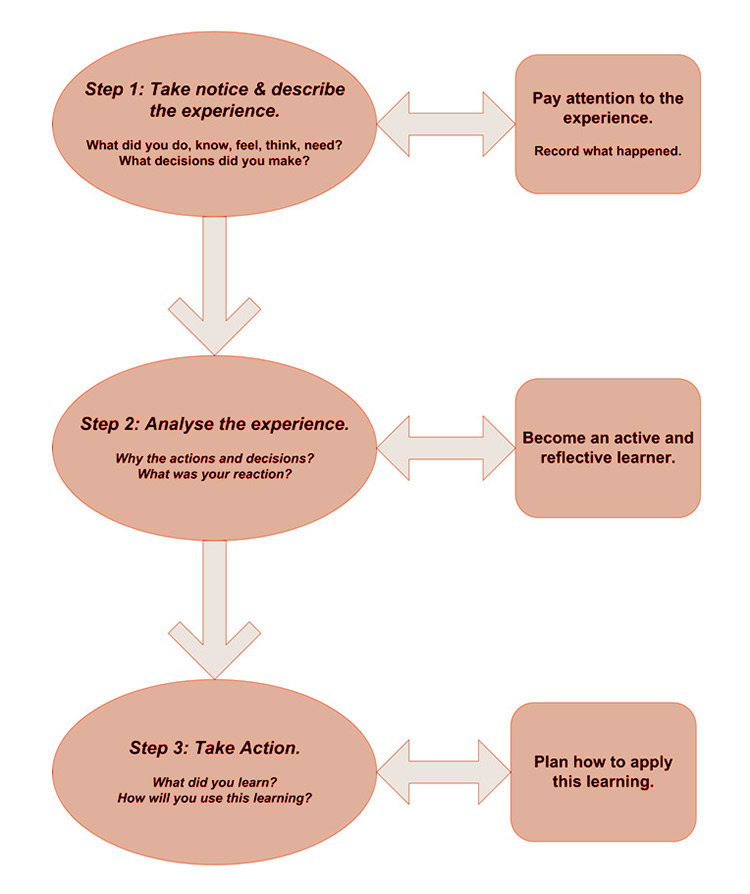 If you want to hear more about reflective writing, you can find a podcast here that provides an overview of the reflective process in academic study and explains how it can help you to become more aware of your own learning and development.