Essays
Essay writing does not need to be a daunting experience. The easiest way to approach the task is by breaking it into stages and progressing through one step at a time.
The essay writing process
The essay writing process can be broken into five stages:
Understand > Plan > Research > Write > Revise and edit
These stages of writing also apply to reports, case studies, reflections, and other written assignments.
The process

1. Understand

What are you being asked to do?

• Identify and understand instructional words like describe or analyse

• Study the marking schedule

• Ask questions to your teacher to clarify expectations.

The process

2. Plan

What are you going to include and how will it be organised?

• Use mind mapping, essay maps or a simple bullet point list

• Refer to the marking schedule

• Plan each paragraph according to the word count

The process

3. Research

What has been written about your topic?

• Make notes from recommended readings, journal articles and trustworthy websites

• Keep track of your sources and references

• Revise your plan as needed.

The process

4. Write

Do you know how to structure academic paragraphs?

The process

5. Revise and edit

Have you answered the question? Does your essay make sense?

• Get feedback from a fresh set of eyes

• Make sure you have correctly referenced work where needed

• Use an editing checklist.
Essay writing resources and tools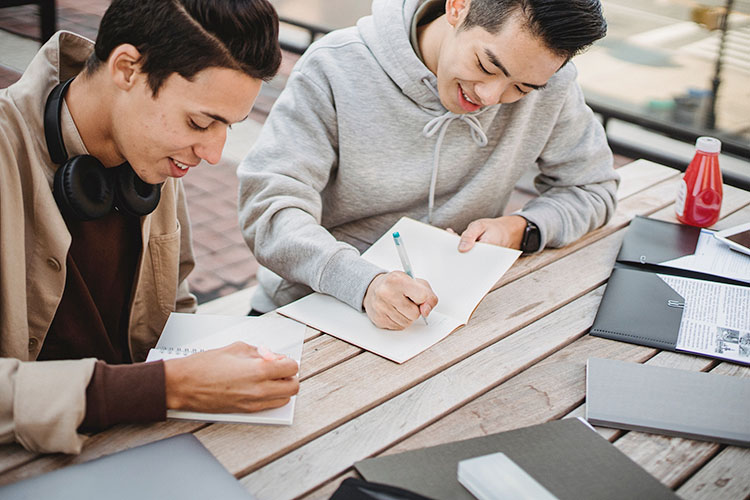 Essay structure
The structure
An introductory paragraph is the first paragraph in an essay. It often contains two parts:
General Statements: A few sentences about your subject that catch the attention of your reader. It helps to state the purpose of your essay.

A Thesis Statement: One or two sentences that tells your reader the main points of your topic and states the overall 'plan' of your essay.
The body consists of a series of paragraphs following the introduction (the amount of paragraphs depends on the length of the essay).
Each paragraph should contain one main idea. It develops that idea in three parts:
• A topic sentence
• Body sentences
• A concluding or linking sentence.
Each paragraph supports the main idea of your essay by breaking it down into smaller ideas or sub topics. Arrange the material going from general to specific (this should be done in your planning). Whenever you use an idea that is not yours, whether quoted or paraphrased, it must be referenced.
A conclusion usually has 2 main parts:
A repeat of the thesis statement but worded differently

A summary of the main points covered and what they mean. Do not add any new information or have any references in your conclusion.
The reference list should be on a separate page.
Find out more about referencing and citing and how to create a reference list.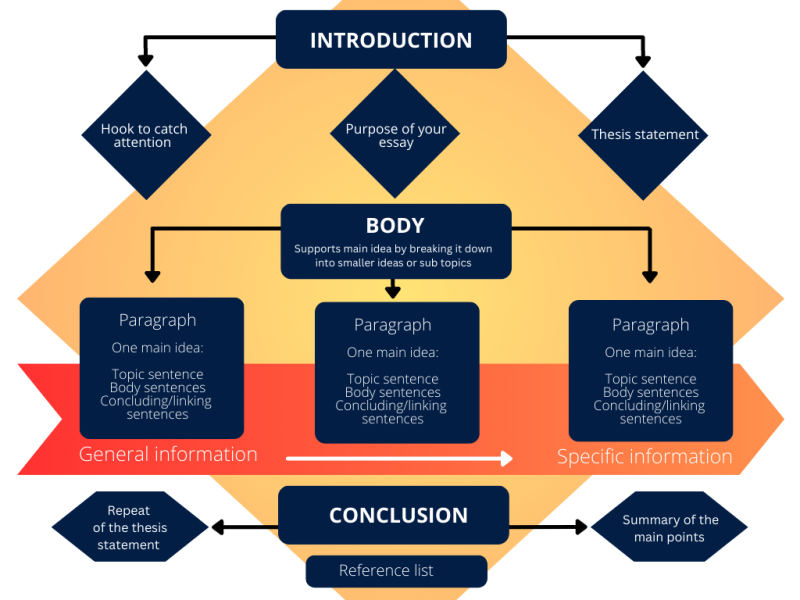 Essay examples
Introduction example
The introduction is usually about 5% to 10% of the total word count. Here is an example of an introduction paragraph:
Begin with a relevant context
An important issue that affects the health
services in many countries relates to providing
care for their greying population.
Explain the topic's significance. Define key terms if necessary.
The ageing process presents many changes that
can be challenging for the elderly and for nurses
who provide care for aged clients.
End your introduction by clearly
stating the objectives of the essay.
This essay will discuss the common biological,
psychosocial and behavioural changes that the
elderly face. These changes will then be linked
to the nature of nursing practice that meets the
needs of aged clients.
Body paragraph example
The main body is usually 80% to 90% of the word count. Each paragraph should contain:
The main idea
A key biological change in the physical status
of the elderly is osteoporosis...
Relevant information from appropriate
sources
Smith (2012, p. 352) stated that...
How it relates to your practice or learning
Therefore nurses must ensure that aged clients are protected from knocks and falls, by takings precautions such as...
Conclusion example
The conclusion one parapraph only and is often 5% to 10% of the word count. Be specific and don't give any new information.
Summarise and give an overview of
the main ideas
The changes that occur in ageing are varied and
complex. Common biological changes are... and... The psychosocial changes... and... are
strongly linked in that...
Close the conclusion by relating the key points to the wider context
Possessing a good understanding of both the common
changes that occur with ageing, as well as the
complex interrelationships between these effects of
ageing, is thus essential for nurses to be better able to
provide quality care for elderly clients.