Reading skills
Improving your reading skills will reduce unnecessary reading time and enable you to read in a more focused and selective manner. You will also be able to increase your levels of understanding and concentration. This section shows you how to read with greater efficiency and effectiveness by using a range of different reading skills.
You already use a range of reading styles in everyday situations. The normal reading style that you might use for reading a novel is to read in detail, focusing on every word in sequence from start to finish. If it is a magazine you are reading, you might flick through the pages to see which articles are of interest. When you look in a telephone directory for a particular name, you purposefully ignore all other entries and focus your attention on spotting the name you want. These everyday reading skills can be applied to your studies.
Reading and reviewing techniques
What are your current reviewing and reading techniques?
Activity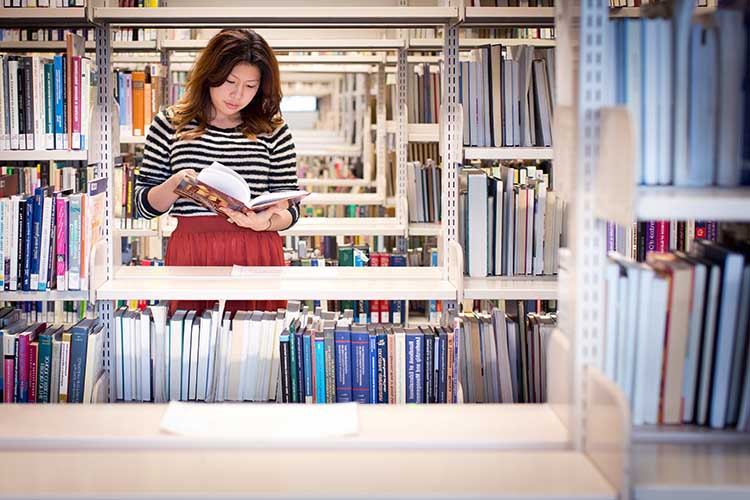 Clear reading goals can significantly increase your reading efficiency. Not everything in print will be of use to you. Use reading goals to select and prioritise information according to the task in hand.
Reading goals can be:
An essay or seminar subject
A report brief
A selected subject area
A series of questions about a specific topic
Use your reading goals to help you identify the information that is relevant to your current task.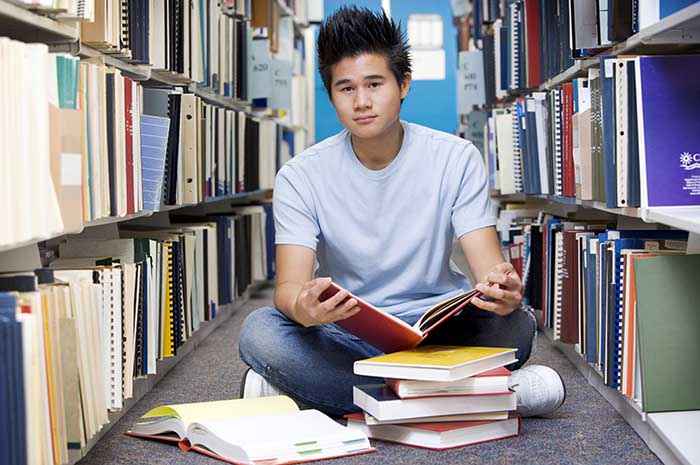 The content of what you are required to read for your course is stated in your Course Outlines, and often includes a textbook, articles, etc. In addition, you will see 'recommended reading' lists attached to different topics. In the library there will be, apart from the many books, newspapers and journals, computer databases containing a wide range of subjects and these will be arranged in categories according to programme and context. Many academic journals are available on-line. In order to manage the amount of content, you need to think about the purpose of your research.
When choosing a text you will need to assess the text to see if it contains information that is relevant to your reading goals:
Check the date of publication. Is the information up-to-date?
Read the publisher's blurb at the back or inside sleeve for an overview of the content
Check the contents page for relevant chapters
Look up references for your topic in the index
Once you have selected a text you can use the following techniques of scanning and skimming to help you identify areas for detailed reading.
"
If the text does not seem relevant, discard it.
Scanning
Scanning is the technique you might use when reading a telephone directory. You pass your vision speedily over a section of text in order to find particular words or phrases that are relevant to your current task.
You can scan:
The introduction or preface of a text
The first or last paragraphs of chapters
The concluding or summarising chapter of a text
The book index
Skimming
Skimming is the process of speedy reading for general meaning. Let your eyes skip over sentences or phrases which contain detail. Concentrate on identifying the central or main points. Use this technique to:
Pre-view a selection of text prior to detailed reading
Refresh your understanding of a selection of text following detailed reading
Once you have selected useful information, you can begin to read in detail. Note-taking techniques provide a useful aid to reading.
Use:
to pick out what seem to you the most central or important words and phrases. Do this in your own copy of texts or on photocopies - never on borrowed texts.
to record the main headings as you read. Use one or two keywords for each main point. Keywords can be used when you don't want to mark the text.
to encourage you to take an active approach to your reading. Record your questions as you read. They can also be used as prompts for follow up work.
to check you have understood what you have read. Pause after a section of text and put what you have read in your own words. Skim over the text to check the accuracy of your summary, filling in any significant gaps.
These techniques encourage an active engagement with the text as well as providing you with a useful record of your reading. Avoid passively reading large amounts of text as it is not an effective use of your time. Always use a note-taking technique to increase your levels of concentration and understanding.
Tips for underlining text

Read an entire section first

Do not underline too much

Select information you want to learn to make into notes

Make major points stand out clearly. Use numbers; double underlining; stars 

Make notes in the margins. Use key words, brief summaries and write questions if you do not understand something, so you can return to that section

Realise that introductions rarely contain material that needs to be underlined 

Turn major headings and sub-headings into questions 

Use brackets when several lines are important to underline 

Use numbers when a series of ideas are important 

Place a question mark beside unclear sections of information 

Write down questions that you have for the teacher in your class notebook 
One of the most effective reading techniques is known as SQ3R (Survey, Question, Read, Recite, Review). It can be applied to any document. Use the technique in relation to your assignment instructions.
SQ3R is designed to help you read faster and retain more. It might seem like it takes more time to use the SQ3R method, but once you master the process you'll find you will remember more and have to reread less often.
Survey

Survey the text to get an overview.

Do this by:

- Reading the main headings

- Reading the abstract or summary if it has one

- Reading the subtitles or section headings of each chapter

- Checking the diagrams and tables

- Making a graphic outline or mindmap of your understanding at this stage

- Making a prediction about what the passage is mostly about

Questions

Make up questions to focus your reading. 

- Turning the headings into questions 

- Asking yourself what the text is about 

- Focusing on the information required from your assignment instructions 

Also, before you read, ask yourself some other questions. 

- What do I already know about this subject? 

- What can I expect to learn from this section/chapter 

Read

Read, with the aim of finding the answers to the questions. Do this by: 

- Using an appropriate reading speed, i.e. skim read, speed-read or study read according to the type of material and your purpose for reading it 

- Thinking, interpreting, and analyzing the first time you read, to avoid unnecessary re-reading 

- Jotting important information down on sticky notes, and circling or highlighting important words 

- Ask yourself new questions and write them down. Examine and re-examine the answers to your questions.

- Revise your predictions as you read. 

Recite

Recite important facts or answers to the questions to clarify and understand them. 

Do this by: 

- Reciting orally what you learned in your own words 

- Going back through the reading and recite just the most important information 

- Looking away from the book, recall your questions, and see if you can answer them from memory 

Review

Review the text to ensure that no misunderstanding or omissions have occurred.

You could:

- Review areas that challenged your attitudes, beliefs, or responses to current issues. Look for patterns.

- Distinguish between main ideas, supporting ideas, and examples

- Making a summary of key points

- Do a mindmap to graphically summarise your understanding.
Make SQ3R a habit
At first, going through all 5 steps may feel time-consuming. However, the more you use it, the less you'll have to think about the process.
To turn this reading technique into a habit, use it each time you need to read something in detail. At first, allow extra time to get into the habit of using the five steps. Take any opportunity to discuss what you've learned, forgotten, or not understood, with classmates.
Test the credibility, logic, and emotional impact of what you have read. Do not just accept everything as truth. The author will make an argument for an idea, opinion, and belief, but the author's conclusions do not necessarily have to be the same as yours, and vice versa. As you read, you can have a "conversation" with the author, as well as having a continuous interview with yourself.
It is essential that you learn to read critically, rather than simply accepting everything in the textbook. This involves such things as determining whether information is fact or opinion, and identifying the writer's purpose.
Ask these questions in order to read critically:
Critical reading is the ability to evaluate the credibility of a piece of writing. All writers have a purpose when they write, and usually, a writer will choose or emphasize facts and details which support his or her purpose, and ignore facts which don't. As a good reader, you need to be aware of that.
Critical reading activity
Your task in this exercise is to identify which group each quotation comes from.

Activity