Online learning tools
There are many technologies and online tools that exist to help students with their studies. These can be in the form of computer programs, web-based tools, Chrome apps and extensions, and mobile phone apps. They all fall under the umbrella of assistive technology.
Assistive technology includes tools for:
Aiding reading
Text-to-speech and speech-to-text
Word prediction when typing
Checking grammar and spelling
Organising ideas/concept mapping
Note taking and study skills
Check out some of the tools we recommend, listed below.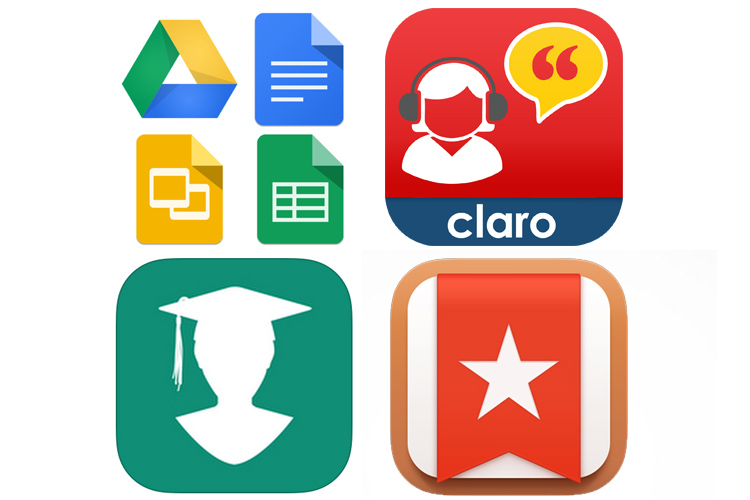 Reading and Writing
The following tools offer support with reading and writing.
| | | | |
| --- | --- | --- | --- |
| Product | Type | Cost | Description |
| ChromeVox | Chrome add-on | Free | This extension specifically works within the Chrome browser to read content aloud. It works well with H5P content within Moodle. Press tab to access content inside an H5P activity. |
| Immersive Reader | Software | Free with Office 365 | Use Immersive Reader in Word, OneNote and Teams. Text to speech, dictation, picture dictionary and visual ease tools. |
| NaturalReader | Software | Free with limited features | Load PDF files and Office documents to be read aloud. Speech rate can be sped up or slowed down. The paid upgrade can read aloud as you type (letter, word or sentence). Also has word prediction and spell check. |
| NaturalReader Chrome extension | Chrome add-on | Free | Use the browser extension for text to speech on websites. |
| Ginger | Software | Free with limited features | Type straight into Ginger and it will check grammar, spelling, rephrase, translate and read text back aloud. Will also work within M. Office applications such as Word and Power Point. |
| Google Docs | Chrome app | Free | Contains a very good speech to text tool so students can dictate their writing. Use in conjunction with Read & Write Chrome extension for support in both reading and writing. |
| Read & Write | Chrome extension | Paid subscription | Well worth the subscription for support with reading and writing. Read aloud tools, predictive typing, dictionaries, highlighting to lists and so much more. A 14 day trial is available. |
| ClaroSpeak | Chrome app | Free | Text to speech tool. Copy and paste text into it. You can also type into it and have it echo each word. Spell check and speaking dictionary. |
| Smmry | Web page | Free | Cut and paste text, or load PDF's, and the content can be summarized into smaller, more manageable pieces. Useful for trying to read and understand the gist of complex writing. |
| Rewordify.com | Web page | Free | Cut and paste any text into the window and difficult words and phrases can be simplified and more easily understood. Many good settings to view how the text is modified. |
Study Skills
Try these tools for organizing ideas, note taking and study skills.
| | | | |
| --- | --- | --- | --- |
| Product | Type | Cost | Description |
| MindMapple | Software | Free for lite version | A nice simple mind mapping tool to organise thoughts/ideas/notes. Can be used to plan writing assignments. |
| Connected Mind | Chrome app | Free | Mind mapping tool. Can be used for making and/or organising notes. Also helpful for essay planning. |
| My Study Life | Software, app and webpage | Free | For scheduling tasks, assignments, classes and organising time. Works across all devices and platforms. |
| Wunderlist | Software, app and webpage | Free | Set due dates and reminders with notifications. Create to do lists. Can help students prioritize tasks/assignments. Can collaborate with others. |
| Photo Math | App | Free | Reads and solves mathematical problems by using the camera of your mobile device. Shows the steps involved to solve the problem. |