Myths about learning
"Research suggests that students who view intelligence as innate focus on their ability and its adequacy/inadequacy, whereas students who view intelligence as malleable use strategy and effort as they work toward mastery." (Schoenfeld, 1983)
Wrong!
If you believe your learning abilities are fixed, you'll put up mental blocks that hinder your learning. For example, if you are used to getting straight A's you may tend to avoid risks that might take you out of your comfort zone and risk your perfect record. Conversely, if you believe you are not good at something (say math for
example) you may lower your expectations. Either way, those fixed beliefs will prevent you from opening up to new experiences that may have a profound impact on your learning.
Students who have a 'growth mindset' about learning, and believe that they can really improve over time and with effort tend to take more chances, progress faster, and see risk and failure as part of the learning process (Dweck, 2006).
Mindset can have positive and negative impacts on learning; intelligence and ability are neither innate nor static. Our brains grow, change, and adapt as we use them.
A combination of motivation and focused effort in deliberate practice will really help you improve. Deliberate practice is about more than just putting time in; it includes frequent feedback, repeatedly adjusting your approach, and a belief that you can learn and grow with effort. What you do is just as important as how often you do it.
Bust the myth!
Apply what you learn in practice. Practice builds accuracy and fluency. This fluency also builds the confidence and flexibility to apply what you've learned in different situations.

Feed your curiosity. Ask questions, perform experiments, talk to experts, work with others, make mistakes, and explore your questions from many different angles. This helps develop a mindset of growth and will take you further in your development.

Know that your beliefs affect your behaviours. Cognitive psychologist Dr Stephen Chew calls these "beliefs that make you stupid".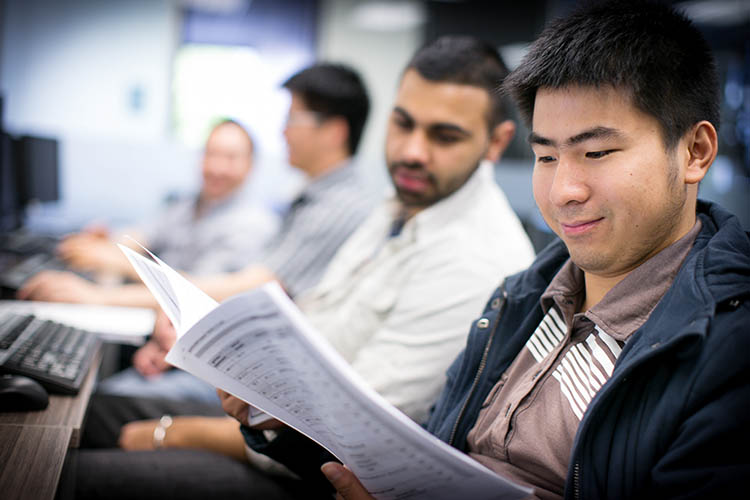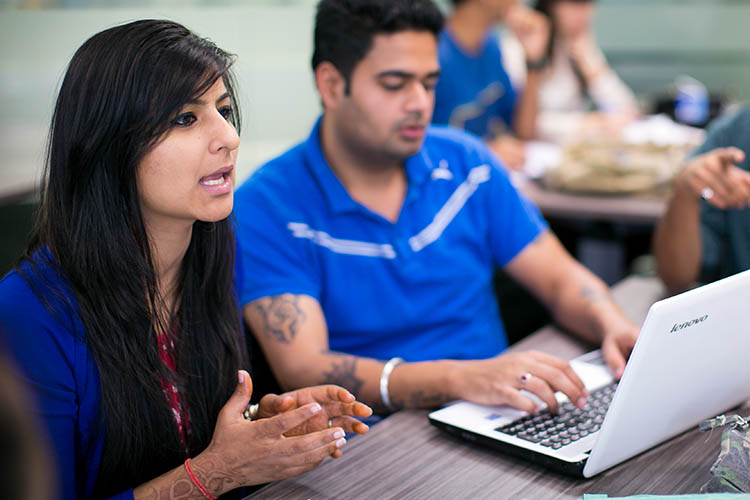 Wrong!
The definition of insanity is doing the same thing over and over again and expecting different results. If your tried and true study strategies aren't working, use a different approach. Monitor your learning, by measuring your knowledge against what you expect. Before you start studying, guess how it'll go. Predict your homework and test results, and see if you're accurate or not. Notice when your expectations fall short of (or overshoot) reality, and adjust your approach accordingly. This is called metacognition, and it's an important part of effective learning.
Bust the myth:
Reflect on your studying by asking yourself these three questions: What did you do? Was it effective? What can you change?
Test your perceptions. After an exam, make a prediction of how many questions/problems you answered correctly. When you get the test back, see how your score matched with your prediction. If you were way off, consider changing your study strategy to incorporate more self-testing, spaced study sessions and varied approaches to practice.
Use strategies like generating your own questions and creating concept maps.
Wrong!
When faced with familiar terms or examples, you might find yourself feeling like you really understand the material, when your brain is really just responding to the fact that it's seen this exact material before. This is called the familiarity trap—when everything seems familiar, your brain doesn't have to work so hard, so it feels like you've mastered the material, even though you haven't. Try to mix things up as you're studying.
More and more, evidence suggests confusion is where deep learning lies. It might even be that some level of confusion activates parts of your brain which regulate learning and motivation, helping you achieve a greater level of understanding. If you're not confused, you might not be learning.
Don't let yourself get discouraged if it feels like you aren't 'getting it'; that's a good sign.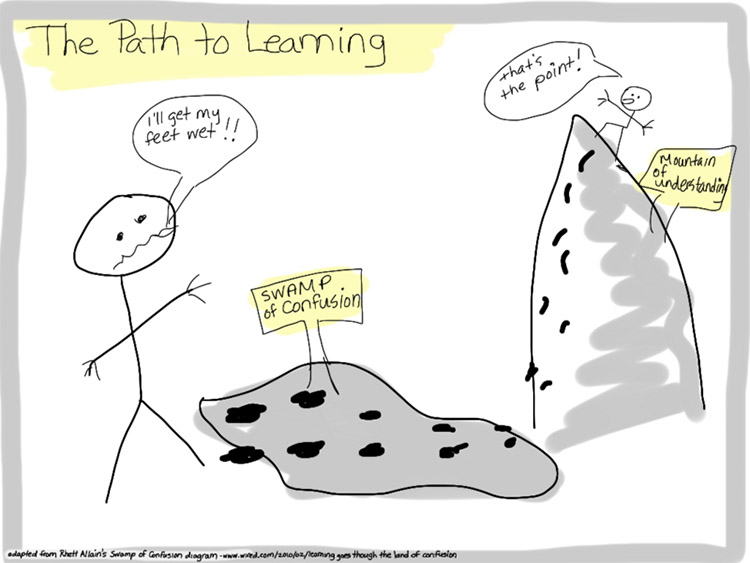 Bust the myth:
Retrieve—don't regurgitate. Develop your own test questions, ask yourself questions, solve sample problems, and analyse for deeper meanings. Need some good questions to ask yourself? Try: why is this answer important? What does it relate to? How does this answer connect with what I already know? Can I elaborate this answer? Can I illustrate it with an example?

If you're confused, don't give up. Working hard to understand a problem or figure something out isn't a bad thing, and will likely lead to a deeper understanding of the material which will stay with you for a long time.
If you stay up all night cramming for a test, you'll probably pass. If you've got a test tomorrow and you haven't cracked a book, you don't have a choice. But have you really learned anything while you were cramming? Cramming doesn't give the brain time to process information and make critical connections necessary to retrieve it from memory later. If you have classes that build on previous courses, you'll wish you'd spaced out your studying later.
Learning goes beyond your test scores: critical thinking analysis, applying principles to solve problems, the ability to assess your effectiveness, revise, and apply what you know are skills that you'll need through the rest of your life. If you have a test the next morning, you might have to pull that all-nighter, but you'll do better on the test and remember the material for longer if you spread your learning out, and use some of the strategies laid out here.
Bust the myth:
Apply learned material. Try to think about situations where you might use what you're learning; come up with your own examples of a concept, or try to teach it to someone else. All these activities require you to retrieve what you know, and every time you retrieve it, you're relearning it.

Think ahead about the classes you'll be taking, and what you'll be expected to know when you take them. Get some advice from your teacher or academic advisor. Take note of concepts you'll need to know well for the future, and focus your time on those items.

Learn from failure. If you fail an exam, take steps to analyse what went wrong and change your strategies for next time. Take a deep breath, and do your best to learn from the experience.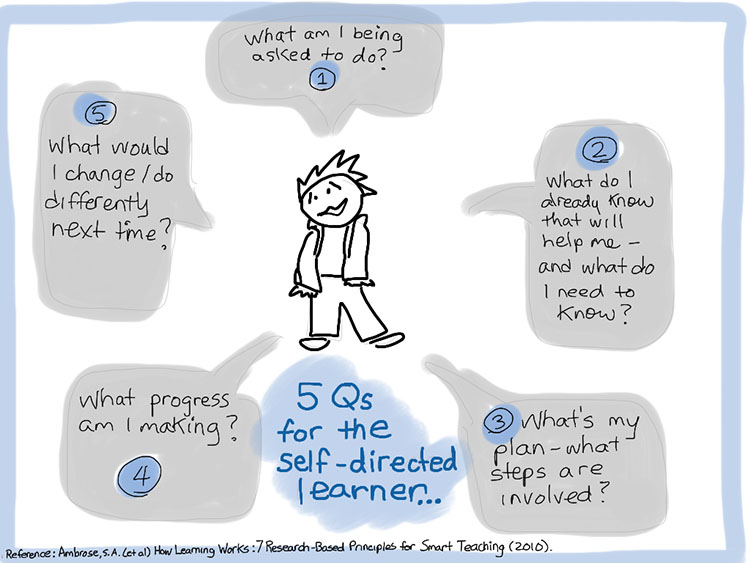 Being a self-directed learner requires planning. Answering the 5 questions from the graphic above can help to build a disciplined approach which will help you tackle your academic work.
Planning can also help you develop a workable schedule for studying. "Research shows spacing study episodes out with breaks in between study sessions or repetitions of the same material is more effective than massing such study episodes. Massing practice is akin to cramming all night before the test." (Clark and Bjork, 2014).
Planning reduces stress, helps you avoid cramming, and builds skills in metacognition. Planning is an important part of any career or occupation, so learning to plan well contributes to your overall competency. Even learning to plan takes practice, so start early!
Bust the myth:
Target your studying: try to study key themes, and take what you know about the exam structure into account when you're planning. If you know you'll have an essay, write outlines! If you have to solve problems, go over homework or make up your own.

Review or practice throughout the term. Without regular review, you may have to re-learn a large portion of the course right before the final.