Orientation and OPSA
Orientation events are held over the first two weeks of semester and are generally free lunch time events. The Otago Polytechnic Students' Association (OPSA) is an independent organisation within the Polytechnic. OPSA is run by students for students, and is all about providing for students.
Orientation events are held over the first two weeks and are generally free lunch time events. Learners are welcome to purchase tickets to attend Otago University evening events run by Otago University Students' Association (OUSA) if they wish. A variety of events will be held throughout the year and notified to all through social media and learner email.
Orientation is a great chance to meet new people and to find out what this vibrant place has to offer. As well as completing things such as your Student ID process, there's also a wide range of events and activities to take part in.
Individual school's welcomes and orientations may begin at different times and vary in length, as programme start dates vary. Each OP Campus also has variations. Please check with your school about when you need to arrive.
Orientation event information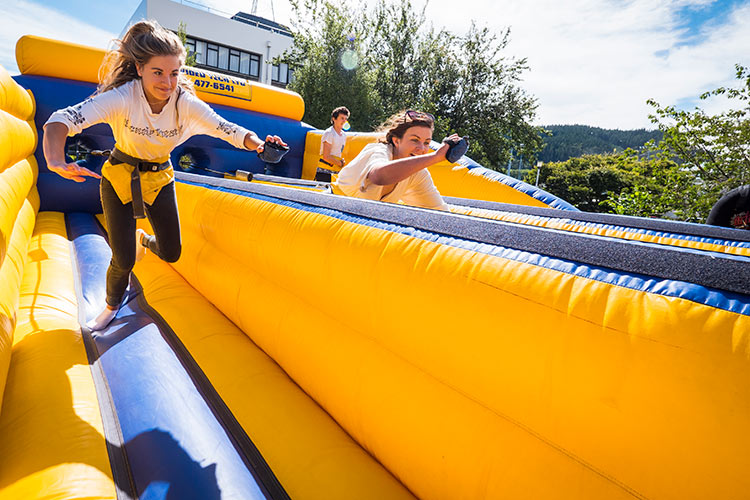 OP Dunedin Campus learners are also able to attend Otago University orientation events. Find out about these events from the OPSA website or OUSA website.
Stay safe during Orientation
Make sure you have a great time and stay safe with these tips on campus, at home, or around town.
Campus Watch
Campus Watch are readily available to offer assistance and advice when or wherever it is required. Five teams work 24 hours a day, 7 days a week. You'll recognise them by their distinctive uniforms of blue and gold, with fluorescent jackets walking around campus and North Dunedin.
Save Campus Watch contact to your phone: 0800 479 500
Feeling uncomfortable?
Think about some things you could say if you're feeling uncomfortable with a situation such as:
I'm here with someone

Hang on I just have to text my friend

I have to go help my friend
I have to leave now, might see you later
Making connections
Orientation is about having fun and meeting new people. Make the most of the opportunities and activities you have through your programme and through OPSA. Connections with people make all the difference, for some tips on making connections visit the Taking care of yourself page.