Critical thinking
Learning to learn means learning to think for yourself on your own and in collaboration with others.
Critical thinking is objective thinking: being able to think logically, analyse an argument, look at alternative viewpoints, and separate fact from opinion. By understanding what critical thinking involves and how critical thinkers think, you can learn to express yourself clearly and develop a balanced argument. Critical thinking is an important skill, not just while you are studying, but throughout life.
Critical thinking is the process of examining, analysing and questioning situations, issues, and information of all kinds, with the aim of forming and maintaining a position based on fact. In this way, you are being objective. To think critically is to evaluate all sides of an argument or issue, and to make decisions about its reliability and soundness. To do this consistently, you need to employ a range of critical thinking skills. You may already utilise these skills in other areas of your life, for example, when choosing insurance or making travel plans. The thinking skills that you use to make these kinds of decisions are also essential in your academic life.
Thinking skills: looking at all sides of an argument, weighing up the options, considering the sources and soundness of the evidence, factoring in your own biases.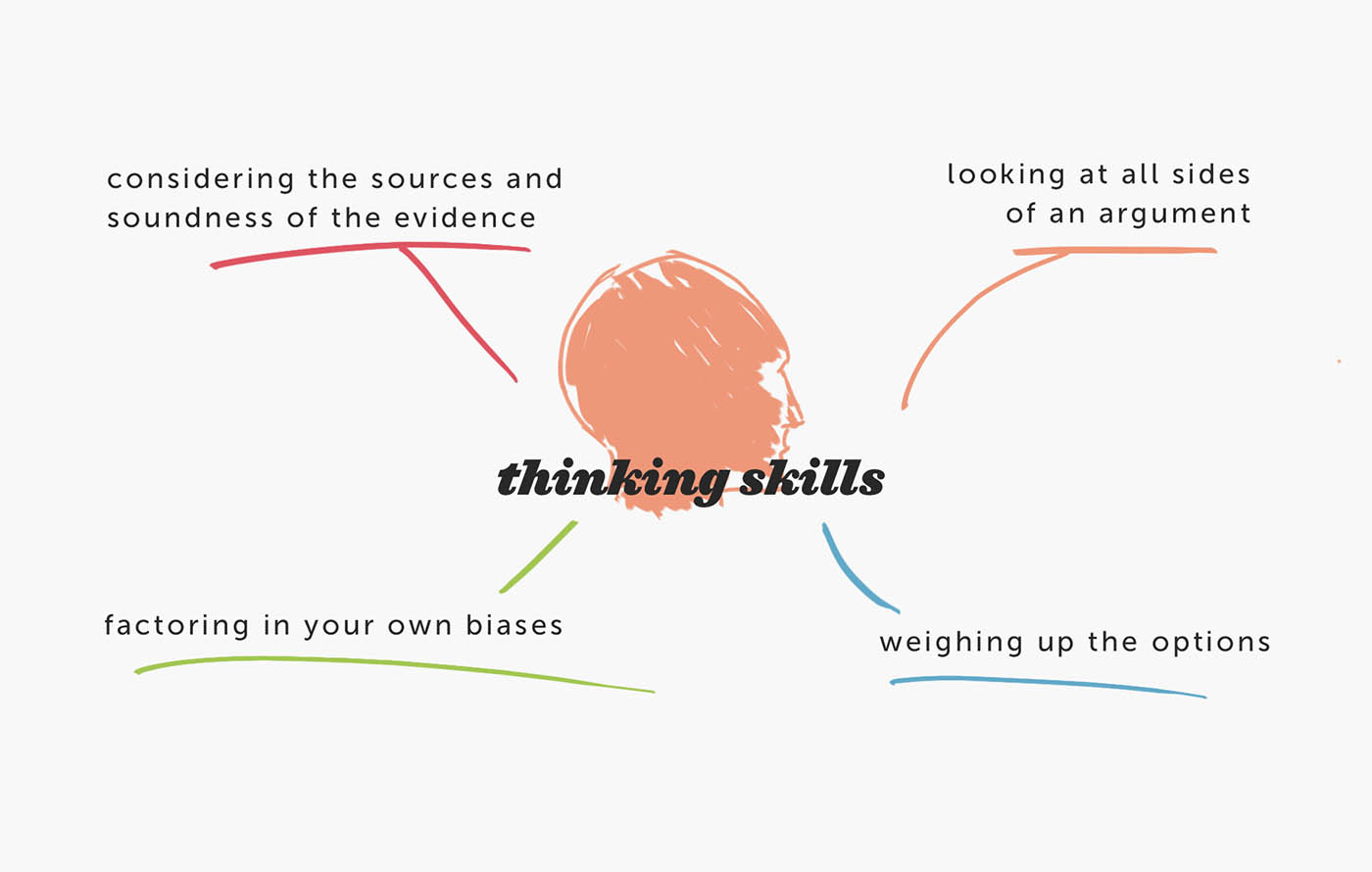 To respond 'objectively' rather than 'subjectively', where you base your opinion on your personal bias, you need to be able to keep an open mind and to keep asking questions about what you are reading, thinking and doing. The questions you ask and the method you use to examine material will depend on the task (for example, you might be responding to an essay question) and the material itself, which could be in written, visual or verbal form. This source material could include:
Course material
Survey results
Published papers, journals and books
Theories
Media stories
History
Scientific research
Political statements
So what are the various specific types of thinking skills that contribute to thinking critically, and what kinds of things are we doing when we apply them? In the 1950s, Benjamin Bloom developed a classification of thinking skills that is still helpful today; it is known as Bloom's taxonomy. He lists six types of thinking skills, ranked in order of complexity. In 2001, this taxonomy was modified in the following way: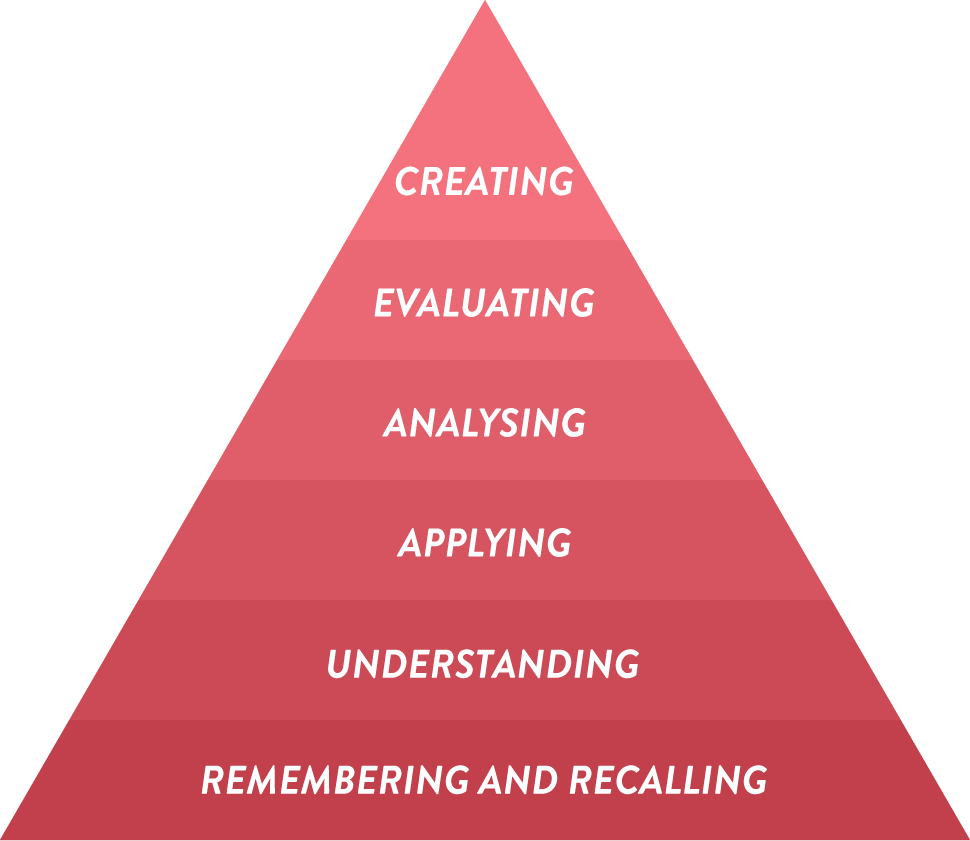 All of these thinking skills are important for your studies (and life in the "real world" too). You have likely had a great deal of experience with the lower-level thinking skills (Remembering and Recalling, and Understanding). The mid-level skills (Applying and Analysing) are skills you will get a lot of practice with during your tertiary studies, and you may be well on your way to mastering them already. The higher-level thinking skills (Evaluating and Creating) are the most demanding, and you will need to invest focused effort to develop them.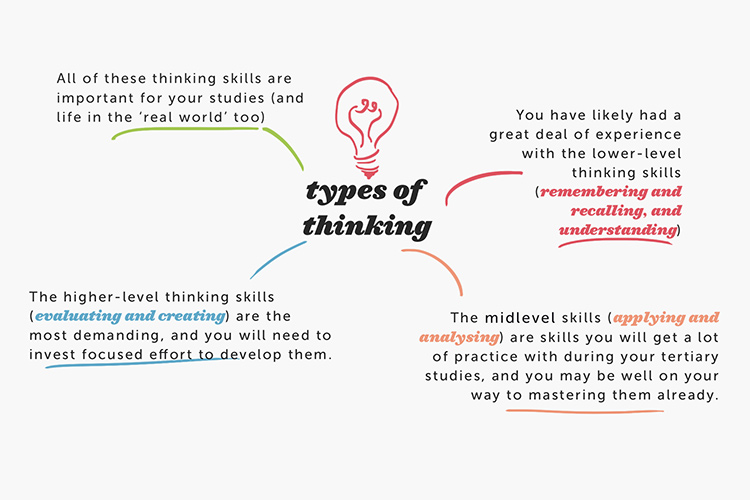 There are certain verbs that apply to each skill set. When you see those verbs as a prompt in an assignment or an exam, you will know what kind of thinking the instructor expects from you.
The graphic below outlines each skill and what is involved in that type of thinking. The graphic also lists some of the most common verbs associated with each thinking skill.
Thinking Skill

Remembering and Recalling

Verbs

Bookmark, count, describe, draw, enumerate, find, Google, identify, label, list, match, name, quote, recall, recite, search, select, sequence, tell, write

What It Involves

Retrieving or repeating information or ideas from memory. This is the first and most basic thinking skill you develop. Exhibits previously learned material by recalling facts, terms, basic concepts and answers.

What is...?

When did ____ happen?

How would you explain...?

Why did...?

How would you describe...?

Thinking Skill

Understanding

Verbs

Blog, conclude, describe, discuss, explain, generalise, identify, illustrate, interpret, paraphrase, predict, report, restate, review, summarise, tell, tweet

What It Involves

Interpreting, constructing meaning, inferring, or explaining material from written, spoken, or graphic sources.

How would you compare...? contrast...?
Explain in your own words...?
What facts or ideas show...?
What evidence is there that...?

Thinking Skill

Applying

Verbs

Apply, articulate, change, chart, choose, collect, compute, control, demonstrate, determine, do, download, dramatise, imitate, implement, interview, install (as in software), participate, prepare, produce, provide, report, role-play, run (software), select, share, show, solve, transfer, use

What It Involves

Using learned material or implementing material in new situations.  Solving problems by applying acquired knowledge, facts, techniques and rules in a different way.

What examples can you find to...?
How would you show your understanding of...?
What approach would you use to...?
What might have happened if...?

Thinking Skill

Analysing

Verbs

Analyse, break down, characterise, classify, compare, contrast, debate, deduce, diagram, differentiate, discriminate, distinguish, examine, infer, link, outline, relate, research, reverse-engineer, separate, subdivide, tag

What It Involves

Breaking material or concepts into key elements and determining how parts relate to one another or to an overall structure or purpose. Mental actions included in this skill are examining, contrasting or differentiating, separating, categorising, experimenting, and deducing.

What inference can you make from...?
How would you classify...?
How would you categorise...?
Can you identify the different parts...?

Thinking Skill

Evaluating

Verbs

Appraise, argue, assess, beta test, choose, collaborate, compare, contrast, conclude, critique, criticise, decide, defend, "friend/de-friend," evaluate, judge, justify, network, post, predict, prioritise, prove, rank, rate, review, select, support

What It Involves

Assessing, making judgements, and drawing conclusions from ideas, information, or data. Critiquing the value and usefulness of material. This skill encompasses most of what is commonly referred to as critical thinking.

How would you compare...?
Which do you think is better...?
Evaluate contribution of____ to...
What was the value or importance of ___ in...?
What would you have recommended if you had been...?

Thinking Skill

Creating

Verbs

Adapt, animate, blog, combine, compose, construct, create, design, develop, devise, film, formulate, integrate, invent, make, model, modify, organise, perform, plan, podcast, produce, program, propose, rearrange, remix, revise, rewrite, structure 

What It Involves

Putting parts together or reorganising them in a new way, form or product. This process is the most difficult mental function. This skill will make you stand out in your tertiary studies and is in very high demand in the workplace.

What might have happened if...?
Can you propose an alternative interpretation to that of...?
Is there a marmite solution here?
"
Without thinking critically, you are only looking at the surface of things.
When you come across a politician's statement in the media, do you accept it at face value? Do you accept some people's statements and not others'? The chances are you exercise at least some judgement, based on what you know about the particular person, and whether you generally agree with her/him or not.
Knowing whether or not you agree with someone is not necessarily the same as critical thinking, however. Your reaction may be based on emotion ("I hate that guy!"), or on the fact that this elected official supports programmes that are in your interest, even though they may not be in the best interests of everyone else. What is important about critical thinking is that it helps you to sort out what is accurate and what is not, and to give you a solid, factual base for solving problems or addressing issues.
Specific reasons for the importance of critical thinking:
Critical thinking identifies both the bias in what it looks at (its object), and the biases you yourself bring to it. If you can address these honestly, and adjust your thinking accordingly, you will be able to see the object in light of the way it is slanted, and to understand your own biases in your reaction to it.
issue, or situation that you're addressing. Critical thinking focuses on analysing and understanding its object. It eliminates, to the extent possible, emotional reactions, except where they become part of an approach or solution.
Critical thinking never considers anything in a vacuum. Its object has a history, a source, a context. Thinking critically allows you to bring these into play, thus getting more than just the outline of what you are examining, and making a realistic and effective solution to a problem more likely.
Some of the things that affect critical thought: previous situations, personal histories, and general assumptions about an issue, may need to be examined themselves. Critical thinking identifies them and questions them as well.
and complexity of its object. A situation or issue may have a seemingly simple explanation or resolution, but it may rest on a complex combination of factors. Thinking critically unravels the relationships among these, and determines what level of complexity needs to be dealt with in order to reach a desired conclusion.
of reality. The whole point of critical thinking is to construct the most objective view available. One hundred per cent objectivity may not be possible, but the closer you can get, the better.
get the results you want. The closer you are to dealing with things as they really are, the more likely you are to be able to address a problem or issue with some hope of success.
In more general terms, the real value of critical thinking is that it has been at the root of all human progress. The first ancestor of humans who said to himself, "We've always made bone tools, but they break awfully easily. I bet we could make tools out of something else. What if I tried this rock?" was using critical thinking. So were most of the social, artistic, and technological groundbreakers who followed. You would be hard pressed to find an advance in almost any area of humanity's development that did not start with someone looking at the way things were and saying "It doesn't have to be that way. What if we looked at it from another angle?"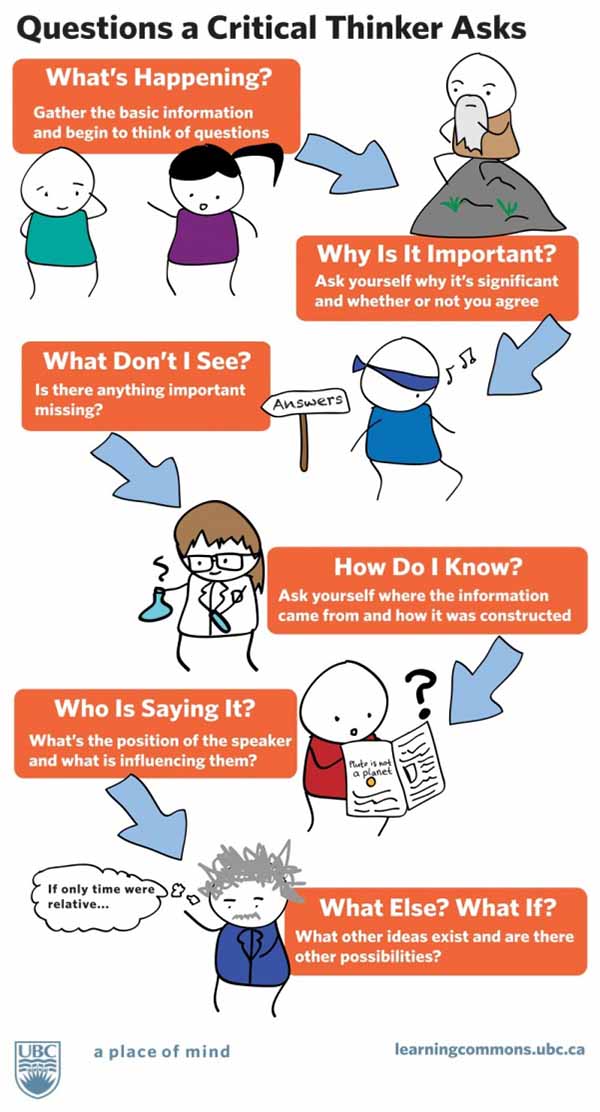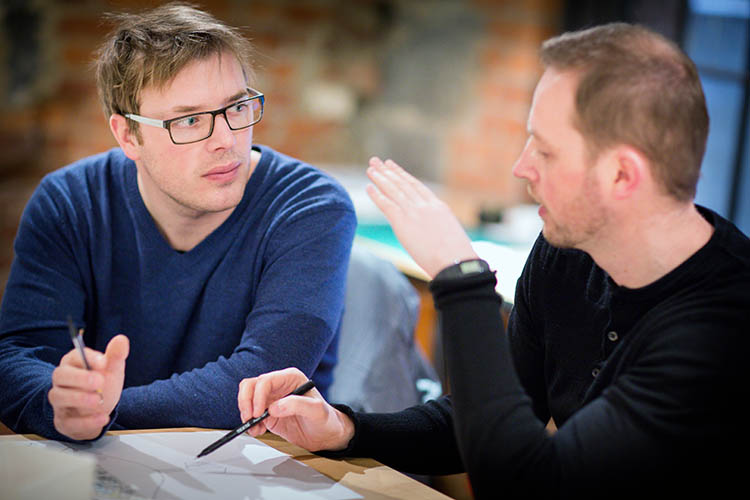 1. Question your assumptions.
We make a lot of assumptions about almost everything. It is how our brain processes certain pieces of information, and how we get along in everyday life. You could say they are the foundation of our critical framework. But what if those assumptions turned out to be wrong, or at least not entirely truthful? Then the whole foundation needs to be re-built, from the bottom up.
What does it mean to question assumptions? Einstein questioned the assumption that Newtonian laws of motion could accurately describe the world. He developed an entirely new framework for looking at the world by redescribing what he thought happened, starting from scratch.
We can question assumptions in a similar way. Why do we feel the need to eat in the morning, even when we are not hungry? Why do we assume that we will fail when we have not even tried?
What other assumptions are we taking for granted that might crumble upon further examination?
2. Do not take information on authority until you have investigated it yourself.
Like assumptions, taking information on authority can be useful. Instead of double-checking everything anyone says, we tend to label information as either coming from a trustworthy or untrustworthy source. Just because it was published in a magazine or broadcast over television does not mean it is necessarily true. Knowing how to evaluate sources means we don´t have to double-check every piece of information that comes our way, saving time and energy. Learn more about checking information in Critical Reading.
Get in the habit of using your instinct to investigate questionable pieces of information. If your 'gut' is not satisfied with an explanation, ask the person to elaborate. Question a ´fact´, read about it or try doing your own experiments. Soon enough, you will build up a pretty good sense of what deserves more research and what you have determined to be true in your own judgment.
3. Question things.
You have already read about questioning assumptions and questioning authority figures. Now you are about to be told to question...everything? Asking questions is perhaps the quintessential act of critical thinking. If you do not know what questions to ask, or do not ask the questions in the first place, you may as well not get the answer. Finding the answer, and finding it elegantly, is what critical thinking is all about.
How does ball lightning work?
How do fish fall from the sky in the middle of Australia?
How can we take meaningful steps to help improve the lives of the poor?
How do we dismantle production of nuclear weapons worldwide?
To improve your critical thinking techniques:
to find out information on the topic you are critiquing. An uninformed critique is sometimes worse than one merely executed badly. 
yet do not be timid in your criticism: Try to avoid absolutes like "never", and use them only when you are completely sure. However, at the same time, be assertive in your criticism.
that is, to know when a discussion is conducted from the particular to the general, or from the general to the particular.
It is likely that they will offer a new perspective which could change your approach. Consider people both from different age groups and different occupations. 
in newspapers and books, and learn from their mistakes and strengths to improve your own style.
as you will get better at it. Take notice if others critique your critique. 
Your aim is not to critique the person, but the proposal he or she puts forward. 
For example, who better than a painter to critique a painting? Or who better than a writer to properly analyse another writer's works? 
Text coding is a strategy used to help you keep track of your thinking while you are reading. You can use a simple coding system to mark the text and record what you are thinking either in the margins, on post-it notes or by adding comments to a document. As you make connections, self-question, and respond to what you are reading, you are self-monitoring your comprehension and enhancing long term understanding. The codes help you name and remember a particular thinking strategy and track the thinking throughout the text. Following are some symbols that you could use while coding text.
| | |
| --- | --- |
| Symbol | Meaning |
| T-S | Text-to-self connection |
| T-T | Text-to-text connection |
| T-W | Text-to-world connection |
| V | Visualize or make a picture in my head |
| P | Predict |
| I | Infer (read between the lines) |
| 2+2 | Synthesize (put together) |
| ! | Important |
| ? | Question: I wonder; I don't understand; or puzzles me |
| + | New information (clarify) |
| X | I thought differently |
| = | Reminds me of… |
| ü | |