Balance
We create balance in our lives by using tools to help us support our wellbeing and keep ourselves mentally fit.
Fitness is not only physical, it's also mental and there's a connection between the two. Maintaining our mental fitness is one of the key aspects of healthy wellbeing.
These are extraordinary circumstances we're living in right now. We all need to find a way of resetting and finding our place in this new normal. We may be experiencing unsettling feelings around social distancing or community lockdown.
Building your mental fitness means building resilience, boosting your wellbeing and finding your new normal.
"
"Mental fitness = Healthy wellbeing"
The 5 Ways of Wellbeing are five simple things you can do in your day to day life. Use these five ways of wellbeing as a checklist to help actively manage your health and stay mentally fit.
Te Whare Tapa Whā - Four sides to your wellbeing
Te Whare Tapa Whā - The four equal sides of the wharenui create a balanced wellbeing. By making sure that all four sides, or dimensions, are being supported in your life, you can balance your wellbeing and mental fitness.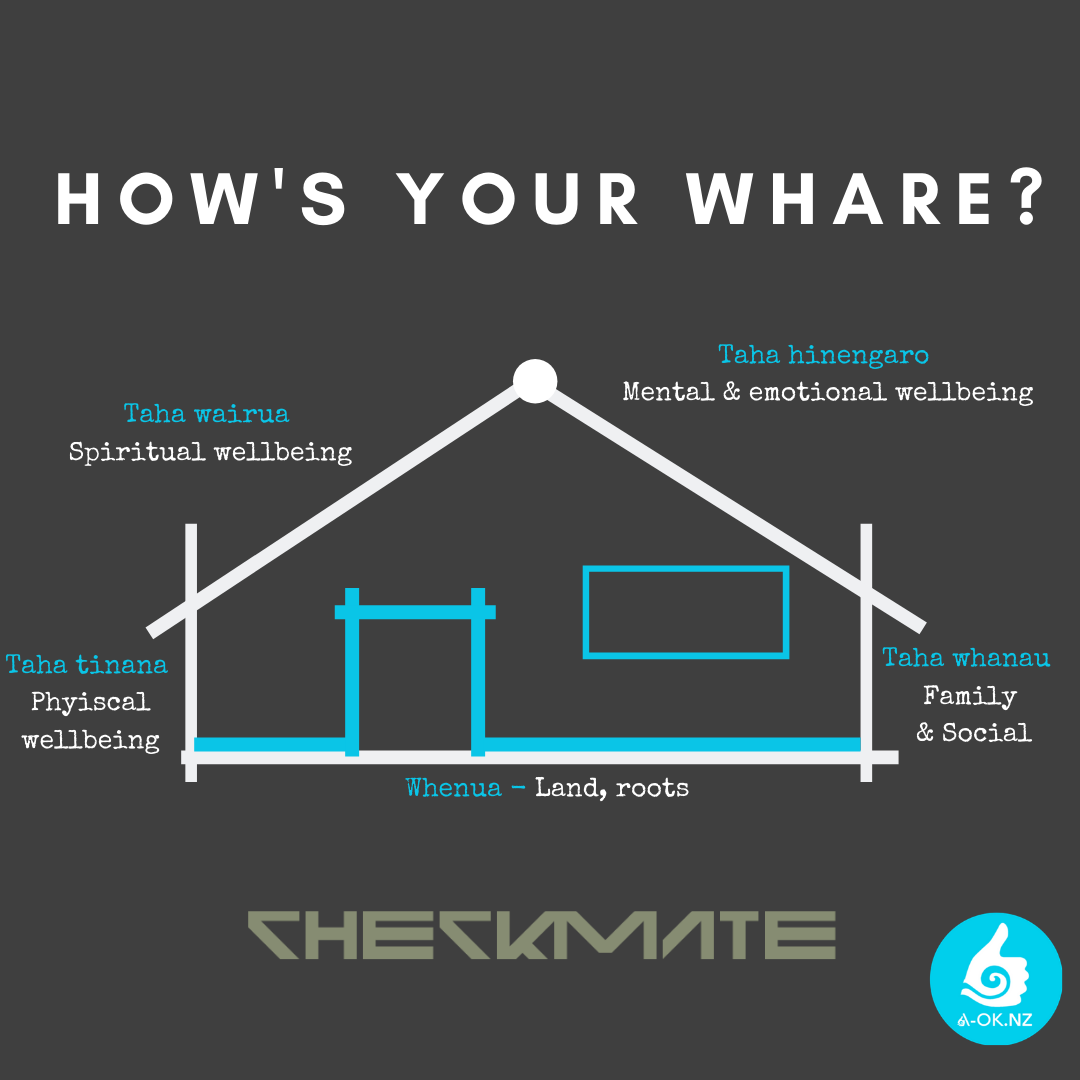 Taha tinana

 (physical health)

Taha wairua

 (spiritual health)

Taha whānau

 (family health)

Taha hinengaro

 (mental health)
Setting up a routine
Setting up routines helps to create your new normal. Routines create certainty in uncertainty.
Your daily and weekly routine:
Prioritise 'to dos'

Don't micromanaging every 15 minutes
Look at balance in the day and over the week.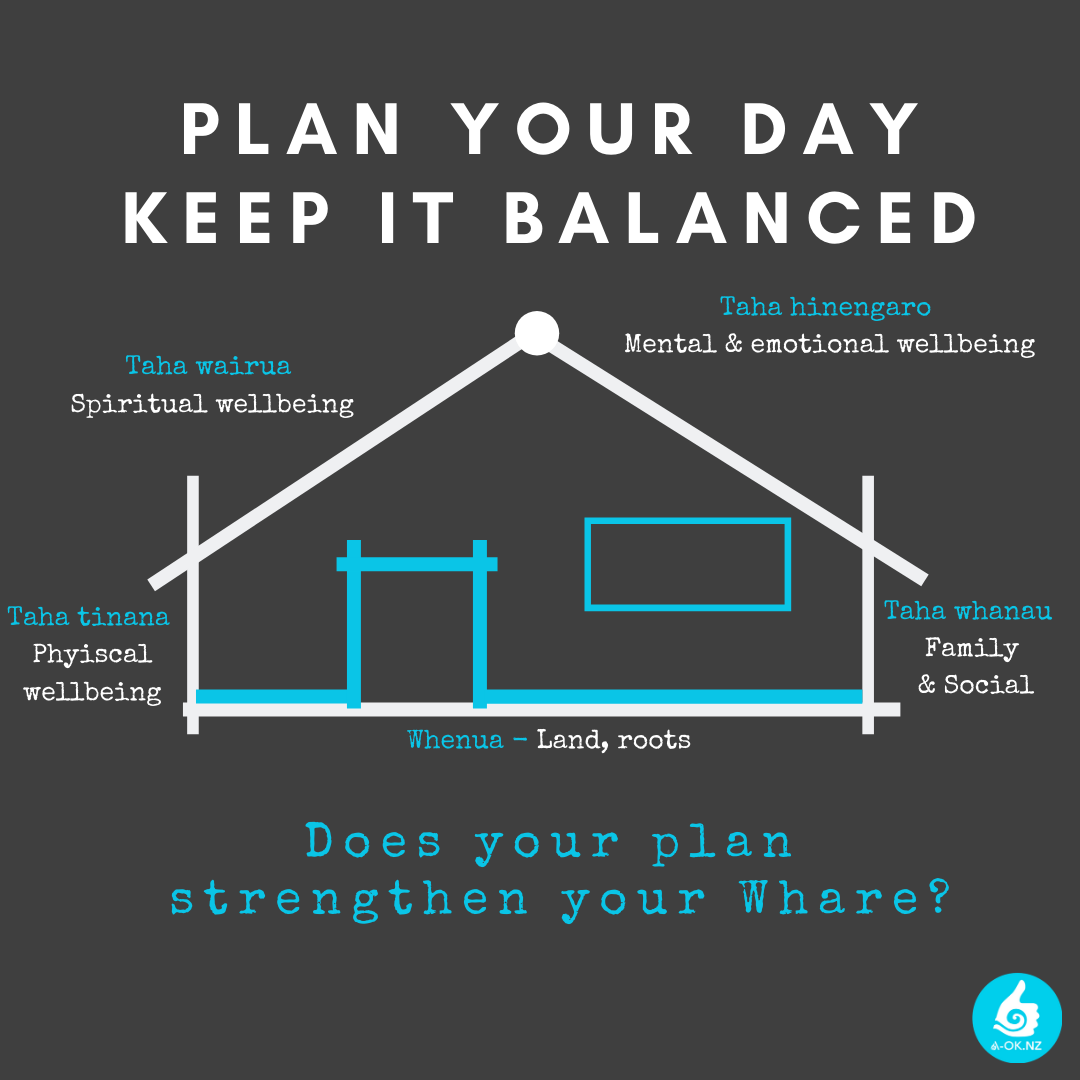 Here is an example of a daily routine, it doesn't have to be perfect and it will change over time.
Start by anchoring your day by scheduling in some regular activities, for instance mealtimes.

Add in the 5 Ways of Wellbeing checklist to make sure that each day you are making sure you are doing activities that are good for your wellbeing.
Time
Activity
Wellbeing ways
8am - 9am
Wake up, breaskfast, teeth, tidy room, laundry, take care of your home.

Take notice

Give

9am - 10am

Fresh air/fitness:

Walk the dog, walk round block, skipping rope, exercise sequence, yoga (there's lots free online).

Be active
10 - 10.30am

Hot drink and snack. Cuppa and connect.

Chat with people in your bubble. Connect over social media.

Take notice

Connect

10.30 - 12pm

Learning:

Check Moodle/course emailsCourse work. Do a couple of tasks. Write a strip of paper where you got up to, so you know where to start the next session.

Change the tasks every 30 minutes. Do a couple of stretches in-between tasks.

Take notice

Keep active

Keep learning

12 pm - 1pm

Fresh air and lunch.

Sit outside with a drink of water.

Take notice
1pm - 2pm

Check-in with classmates, lecturers, check course emails

Keep learning

Give

Connect

2 pm - 3.30pm
Relax, create, projects, play.
Keep learning
3.30pm - 4pm
Fresh air and exercise.
Be active
4pm - 5pm
Cuppa and Check-in with friends and family.Organise a skype call, ring your neighbour, write and email to a family member, message a funny meme to a friend.

Give

Connect

5pm - 7pm

Chore time

Dinner prep and dinner time

Give
7pm - onwards
T.V., movie, Netflix, board game, cards, or old school games

Take notice

Keep learning

Quiet time.

Reading, crossword, word search, Sudoku, or a gratefulness journal

Take notice

Connect

Sleep
Trying to juggle childcare and study can be difficult! Here are some ideas for learners with children at home.
80 Activity ideas
Create something out of Lego
Make things with boxes
Put on a show for the adults
Create a puppet show
Origami – So many instructions on the internet!
Movie day with fun movie snacks
Family workout – eg. 'The Body Coach' on YouTube – Joe is doing week day P.E sessions!
Plant some seeds
Paint a picture
Learn a magic trick
Cards games: Rummy, spit, Slapjack, Clock patience
Set up a dominoes track
Make play dough
Do some puzzles
Change around your bedroom
Play board games
Make your own board game
Help to cook your favourite dinner
Go for a bike ride around your area
Make jumps for your scooter/skateboard
Make an obstacle course inside or outside
Make an activity track using chalk on the pavement or driveway
Make a hut or fort – inside or outside
Put your tent up to camp out for the night
Keep a journal of your time in isolation
Write a story and illustrate it
Video call friends and family
Make a gratitude jar where you all write something you are grateful for & pop it in every day
Find an email 'Pen pal' to write and send photos to
Floor is lava – make an obstacle course around the house where you are not allowed to touch the floor
Have a day time bath and play with the water
Water play outside on a nice day
Teddy bear walk – count how many teddies you see in peoples windows/cars
Make your own video's an edit them
Practice TikTok dances or learn other dances – YouTube is great!
Practice/learn an instrument
Paint designs on rocks
Make papermache piggy banks from milk bottles
Make you own head bands game with post-its
Make a 'Day in the life' video and edit it together
Make some slime
Make a volcano, in a recycled bottle or make your own papermache volcano!
Drawings and games with some chalk – hop scotch anyone?
Make some Easter decorations
Decorate some biscuits
Do a paint/colour by numbers – there are a heap of free print outs online
Have a dance party!
Have a dress up day
Write everyone in the house a letter & post them in your letter box
Make marble paper using food colouring and water – look this up online!
Make a video/power point about something you love
Play beauticians, do your nails & hair – and your families!
Make a quiz for your family
Camp out for a sleepover in the lounge
Mix up your meals! Dessert for breakfast?!
Teach your dog some new tricks
Play with some bubbles
Play the elastics game
Have a themed dinner party
Make a sand garden, or a fairy garden
Make & decorate masks made out of card
Do a simple sewing project, like making a scrunchy, pencil case, swimming bag, eye mask or cushion (with an adults help!)
Decorate a picture frame to give it a new look – could you add shells or dried leave etc to it?
Hollow out real egg shells (by blowing them – Google it!) then paint the shells
Make stress balls with rice & balloons
Make tissue paper pompoms to decorate your room
Learn to knit – get someone to teach you
Make a video to send a grandparent that you can't visit
Set up a treasure hunt – or get the adults to do it for an adventure for you
Forage in the garden to find things to decorate the dining table, or a vase
Make a shoe box aquarium! (Google it!)
Wait until it's dark & play spotlight
Play 1 2 3 home
Make salt dough and shape things to cook in your oven such as beads, earrings, key rings. You can then paint to decorate them!
Make cards for people's birthdays coming up, or other occasions. Even thank you cards for people that mean a lot to you. You can gift them after isolation!
Make boats using recycling to have a race in the bath!
Build something with an adults help using off cuts of wood
Play charades with your family
Make shadow shapes. Trace around a toys shadow.
Balloon tennis