Oral presentations
Can you stand up with confidence, knowing your presentation will capture your audience and tick all the boxes? Now you can!
These are the main steps when preparing a presentation:
Research > Select tools > Writing > Practice > Present

Research
What kind of presentation do you need to give?
Researching material for a presentation is similar to researching for an assignment. Visit the library in person or online to research your topic.
Write notes and create a concept map of how ideas tie together. Use the concept map to consider the relationships between each piece of information.
Who is your audience?
Consider the audience:
How much do they already know?

How much is too much information?
What sort of speaker are you?
How much do you already know about the topic?
Use information and resources you feel comfortable with
Include small facts that you find fascinating – The audience will be more receptive if they see you enjoying yourself!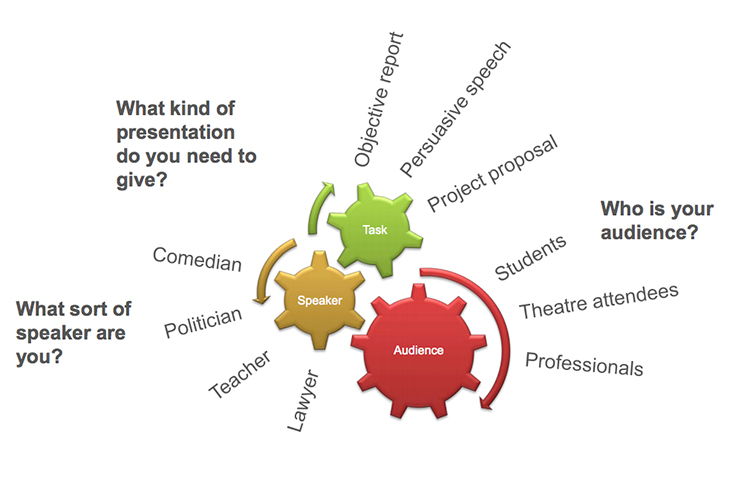 What is your speaking style?

Lawyer

Enjoys argument and debate.

Asks the audience questions.

Comedian

Enjoys making jokes.

Allows time to interact with the audience.

Politician

Enjoys inspiring people.

Highlights the impact of ideas in broader domains.

Teacher

Enjoys educating.

Uses different modalities, e.g. sound, sight, touch to engage the audience.
Select tools
| | |
| --- | --- |
| Lectern or table | Online presentation tools like Google slides, Prezi, Canva etc. |
| Posters/flip charts | White board and pens, handouts |
| PowerPoint slides | Video clips |
If you are using any technology for your presentation, test it well before the presentation, on the actual equipment you will be using.
Writing
Once you have a collection of notes, ideas, objects, multi-media content etc, it is time to write the presentation itself. Sequence your ideas to satisfy the assignment task. Go to the section below to learn how to Structure your presentation.
Practice
Practising a presentation is as important as editing an essay:
Rehearse two or three times - at least once with full equipment.

Become so familiar with the material that key words on a page or cue cards will trigger a key point for you, and you can talk while maintaining eye contact.

Rehearse in front of a practice audience and get them to critique it for you.

Record yourself talking

Time yourself
The structure of a presentation is similar to an essay:
Introduction > Body > Conclusion
This structure is important for your audience to be able to follow what you are presenting. You have to introduce the general topic in order to set the context for the points you want to put forward in the body of your speech before restating the general topic at the end as well.
Presentation structure
• Grab their attention
A good presentation often begins with something that will grab the attention of the audience. This may be something funny like a joke or cartoon, it may be a story or it may be an interesting quote. Often, saying something controversial like "we should ban all cars and make everyone use bicycles" can make people sit up and listen.
• State your purpose
The first thing you should talk about once you have their attention is to outline the main point (or thesis) of your presentation. People are more likely to remember things they see or hear at the beginning or the end of a presentation. Therefore, the main point you want them to remember should be made first. Likewise, this main point should also be the last thing you mention in your conclusion.
• Tell them where they are going
People are able to follow a presentation if they already have a 'road map' in their heads of the points that will be covered in the body of the speech. This overview enables them to fit the details of your presentation into an overall context and they are more likely to understand your arguments as you present them. Therefore, it is good to give your audience an outline of your speech. For example: 'I will concentrate on the following points: First of all…Then…This will lead to… And finally…'
• Structure each point
The body of a presentation should clarify your message and develop your arguments. Each point should be structured like a little mini presentation where you state the point first and then explain and expand on it. You need to back your points with evidence and often real life examples are useful to clarify. You should finish with a concluding sentence that restates the point again.
• Order your points
Order your points logically so that they make sense and build a sequence or 'story' for your audience. Organise your material according to some 'organising principle'. This may be organising facts in chronological order, by theme, or in the order of importance.When presenting an argument, some people recommend that your strongest points should go at the beginning and end and leave your weaker points to the middle of the presentation. This way, people are more likely to hear and remember your stronger points and will be more convinced by the argument you put forward.
• Link your points
Try to link each of the points you are making so that your presentation moves smoothly from one point to the next. This can be done by using 'transitional words' like: furthermore, likewise, however, on the other hand.
Also, sequencing your points by using words like 'firstly … secondly … finally' signals to your audience that you are starting another point and where they are up to in the presentation.
• Sum up your points
It is important in your conclusion to leave your audience with a clear summary of everything you have covered. Restate each point and explain its connection to the other points made and to the main point of your presentation. This should leave your audience with a clear overview of what you have been saying. Finally, you need to leave them with a strong restatement of your main thesis so that it is the last thing they hear and therefore is the point they are most likely to remember.
• Finish strongly
There is a risk that you can lose your audience towards the end of a presentation if you do not know how to finish strongly. Many people concentrate of preparing a snappy beginning to their presentation but then don't know how to finish. They either just stop leaving their audience confused or keep repeating themselves leaving their audience impatient. Prepare a strong statement to finish with before you get up to speak. It may be a quote or a joke or even just restating your main point in a different way. This way you will not run the risk of dithering at the end and you will leave your audience satisfied with a strong conclusion.
According to some surveys, the fear of speaking in public is one of the most common fear among people. (The fear of dying comes out lower!)
Almost everyone feels nervous when giving a presentation or speaking in public so if you feel nervous, it is perfectly natural and understandable.
"The trick is to be well prepared, practise, and remember to breath."
Tips to deal with presentation anxiety
Make sure you have prepared your presentation and your notes and your visual aids are all in order. Ensure that you know the room and the equipment so that you are confident about how everything works.
The secret to being able to perform even when you are nervous is to practise, practise, practise, practise. Present your speech to your friends and family, for your cat, in front of the mirror. The more you practise, the more you are able to do your presentation well even if you are feeling nervous. 
Breathe slowly in and out about 6 times before you stand up to give your presentation. Do it as slowly as you can. This helps to slow down your heart rate and increase the amount of oxygen to your brain and makes you calmer. Nerves make us talk more quickly. Don't be afraid to pause, slow down and breathe.
When you first stand up - Smile! Your audience will react warmly to you if you smile and at least look relaxed.
Giving an oral presentation is a performance—you have to be like an actor. Don't ever tell your audience that you are nervous or apologise for your presentation. If you act the part of someone enjoying themselves and feeling confident, you will not only communicate these positive feelings to the audience, you will feel much better, too.
If you think your hands might shake use cards instead of paper for your notes. A4 sheets held between two shaking hands will draw your own and everyone else's attention to the fact that you are nervous and will distract from the content of your talk.
A good technique is in the weeks/days leading up to your presentation, do some positive visualisation. Sitting quietly or lying in bed, imagine yourself standing in front of the group, feeling very calm and relaxed, speaking in a loud, assured voice. Run this through your head over and over and your mind will tend to remember and repeat it when you do the actual presentation.
Most people deal with nerves before a presentation, even professional speakers and performers. The trick is to be well prepared and rehearsed, smile and get in and do it.
The use of notes can often cause problems for speakers. They are necessary to prompt you if you forget what you are saying but they can be a distraction for the audience. If they are too obvious, the audience will focus more on the notes than on the speaker.
There are various ways to use notes each with their advantages and disadvantages. Think about the options that would suit you best.
Presentation note options
This is not a good idea unless you are a very experienced speaker and you know your material very well. Nervousness often takes over when speaking in public and it is easy to forget what you are saying part way through your presentation.
However, some people can rely on their slides to be their prompts, and so rely on memory to fill in the detail. This way the presentation can sound very natural.
This is often a good method to use but only if you know your presentation well enough just to have a few cards with a few notes on each card.
The cards should fit into the palm of your hand. Hold your hand at about shoulder height, this will enable you to flick your eyes down to read the next key word on your card, as well as maintaining eye contact.
This method has all the notes written on one sheet of paper in large print. This paper is then held about shoulder height and your eyes can flick to the next point as you are speaking. Alternatively, the sheet of paper can be on a table in front of you.
While this has the disadvantage of making it obvious to your audience that you are using notes, it means that you do not have to shuffle cards which can also be distracting.
This method is not generally recommended. Reading tends to flatten the tone of the voice and decrease the amount of eye contact.
However, for someone who is extremely nervous, this may be a reasonable strategy.
Visual aids are very effective in presentations because sight is the most powerful communication channel. Visual aids help to focus the audience and provide them with much more information than just through speaking to them.
Visual aid pointers
• Keep slides uncluttered with plenty of space between any words or images
• Write in note form rather than whole sentences
• Write your font large, so it is easy to see
• Don't have more than 5 – 6 points on any one slide
• If possible, use pictures to illustrate your point rather than words that repeat what you say
• Minimise the number of slides you use. A reasonable guideline is one slide for every two minutes of presentation
• Develop a colour theme or use one that is built into the program. Too many different colours become distracting. Two colours that either accent or contrast one main colour tend to give variety without becoming overwhelming.
• Also, generally use the same font throughout and use consistent font sizes for titles, headings and text
• Effective graphs or charts are those which show only the information which is relevant to the points you are making. Too much other information will only clutter your graphics and your audience will not be able to clearly see the points you are making.
• Any pictures, cartoons or diagrams used should be immediately relevant. They should add to your presentation rather than confuse your audience.
• Ensure that any graphs or pictures you use are large enough for your audience to see
Good visual aids illustrate the points you are making, not just restate them.
Using Visual Aids
Visual aids can be very powerful in a presentation, they can also be very distracting if they are not used correctly.
Be careful not to block anyone's view while you are talking. Position yourself carefully so that everyone has a clear line of sight

Refer to all the points and illustrations that you put up to avoid confusion for your audience. There should be a clear link between what your audience hears and what they see

When talking about anything on the screen, look at the audience not the screen. Otherwise with your back to your audience, they will find it harder to hear and you lose eye contact with them. You may be able to have the computer screen in front of you so that you can see what they see without turning around
Practise your presentation using your visual aids. That way you will be able to use them smoothly without having to stop and think about what you are doing.
After you have practised your presentation ask yourself these questions, or ask for feedback from a friend: